If you're planning on visiting Lauriston Castle please plan ahead and be considerate of our neighbours - parking onsite is limited. 
To protect the safety of our visitors and staff Lauriston Castle is currently closed but our grounds are open are open to the public between 8am-5pm each day. Mimi's Bakehouse is also open to the public from Monday-Sunday 9.30am - 4pm offering hot drinks, cake, scones, savoury food and ice cream.  
Currently there is no public toilet provision at Lauriston Castle due to the ongoing pandemic. The situation we understand is far from ideal, but we have limited resources and the priority must be protecting public health. We will keep everyone updated as soon as it is possible to reopen our toilets safely.
Lauriston Castle
With its calm, tranquil atmosphere, and stunning views across the Firth of Forth, Lauriston is the perfect place to escape from the bustle of the city centre.
Enjoy a woodland walk, a visit to our award-winning Japanese garden, or step back in time and experience what life was like in an Edinburgh middle-class home at the beginning of the 20th century.
To mark Digital Doors Open Days 2020, the team at Lauriston Castle have created a series of virtual tours capturing some of their own personal favourite stories and historical tales. The series of six virtual tours presented by Hilary and Norman, two of Lauriston Castle's dedicated volunteers each explore various aspects and lesser known stories from the Castle, allowing supporters old and new the opportunity to explore and discover Lauriston Castle while the doors are temporary closed. Please see each of the virtual tours below. 
Lauriston Castle Crafts - Burns Thistle Hand Prints
Lauriston Castle Crafts - Dancing Kilts
Lauriston Castle - Butlers Pantry - Digital Doors Open Days 2020
Lauriston Castle - Blue John - Digital Doors Open Days 2020
Lauriston Castle - Mirror Mosaics - Digital Doors Open Days 2020
Lauriston Castle - Strong Box - Digital Doors Open Days 2020
Lauriston Castle - Hilary on the Reids - Digital Doors Open Days 2020
Lauriston Castle - Architecture - Digital Doors Open Days 2020
The collections at Lauriston Castle were assembled by Lauriston's last residents, Mr and Mrs W. R. Reid, and Mrs Reid's brother Mr William Barton. They shared an understanding that the last of them surviving would leave the house, grounds and contents in Trust to the Nation, and so after the death of Mrs Reid in 1926 the Castle became a museum.
Lauriston's last residents epitomised the Scottish Edwardian wealthy middle class. They were cultured, widely-travelled, and were all born in Edinburgh, into families of established local businesses.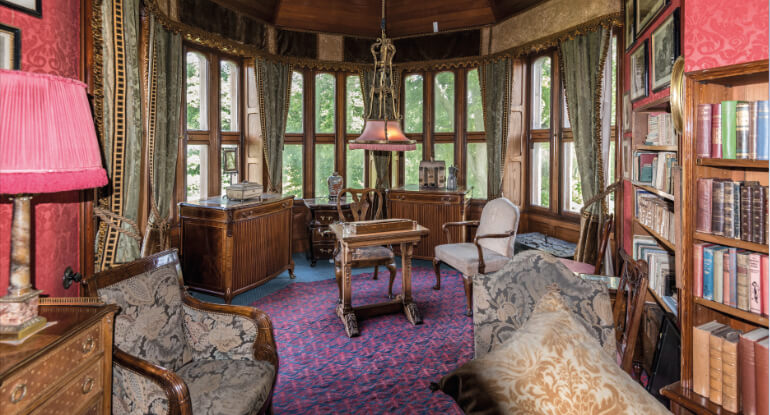 Mr Reid owned one of Scotland's leading cabinet making business, Morison & Company, interior decorators and furniture manufacturers, with branches in Edinburgh, Glasgow and Manchester. You can see many fine examples of Morison and Co. furniture inside the Castle.
Mrs Reid's brother, William Barton, ran a large-scale plumbing and 'sanitary engineering' business, installing plumbing and electrical work and even inventing a revolutionary steam sterilizing system for hospitals. He worked closely with his brother-in-law's cabinet making and interior design Company, and they were responsible for the bathrooms, electric lighting and central heating which turned Lauriston Castle into a modern Edwardian Home.
Lauriston's collections are displayed within an interior designed by William Robert Reid. Some of the objects were brought from their former home at 78 George Street, Edinburgh – the mezzotint engravings, Sheffield plate, Scottish and English furniture, and Chinese and Dutch blue and white ceramics; which were all fashionable collector's items of the period.
The Reids' move to Lauriston Castle in 1903 inspired the development of new collections. The Southern Italian and Dutch furniture, Blue John ornaments, Eastern rugs and Crossley wool mosaics were all collected to complement Mr Reids design for Lauriston's elegant Edwardian interiors.
The furniture collection includes pieces from Scotland, England and Europe. There is an elegant Lady's writing desk made in Scotland in about 1800, fine examples of beautifully crafted Parisian furniture - such as a French commode made in the 1780s by G W Dester who became a master of the Corporation of Cabinet makers in Paris in 1774..Our most remarkable pieces are Mr Reid's collection of 18th century Italian Furniture, with examples from Naples, Sicily, Lombardy, Venice and Rome. Perhaps the most spectacular of all is a table top, dating from about 1590, and made in a technique known as 'pietra dura' in which marble and semiprecious stones are cut and fitted into a slab of marble to create complex and beautiful patterns. The table stands in the Reception Hall at the castle used the colours from the different stones in this table as the design inspiration for whole room.
As well as the many thousands of items collected by the Castle's last owners you can also see some of their more personal belongings, There are all manner of details which give insight into the lives of the people who lived at Lauriston in the early 20th century from Mrs Reids piano and music in the Drawing Room, a newspaper in the Sitting room reporting the sinking of the Titanic, a 1920's telephone in Mr Reids Study, and Mrs Reid walking stick with her name attached on a silver plaque by the castle doorway.  
Lauriston Castle Access Guide
Download our comprehensive access guide to find out how you can get to and around Lauriston Castle. 
Wow! Great tour of the castle. It is beautiful inside with wonderful views. The gardens are also a joy to stroll around. Tripadvisor review