The Writers' Museum celebrates the lives of three giants of Scottish Literature – Robert Burns, Sir Walter Scott and Robert Louis Stevenson.
Home to portraits, rare books and personal objects including Burns' writing desk, the printing press on which Scott's Waverley Novels were first produced, and the rocking horse he used as a child. We have Robert Louis Stevenson's riding boots and the ring given to him by a Samoan chief, engraved with the name 'Tusitala', meaning 'teller of tales'. There is also a plaster cast of Robert Burns' skull, one of only three ever made.
This free museum is easy to locate just off the Lawnmarket, the top part of Edinburgh's historic Royal Mile, in Lady Stair's Close.
With a wide range of stories and objects this museum has something for everyone to enjoy, whether young or old, local resident or visitor. You don't need to have read these writers' works to enjoy the fascinating life stories told in the Writers' Museum.
Collection Highlights include:
The Writers' rich collections include books, manuscripts, portraits and fascinating personal items relating to Robert Burns, Sir Walter Scott and Robert Louis Stevenson. Highlights include a first edition of Scott's novel Waverley and Stevenson's beloved classic, A Child's Garden of Verses. Manuscripts include Burns' draft of Scots wha hae ('Bruce's Address to his troops at Bannockburn'). There is also the press on which Scott's Waverley Novels were printed, a chair used by Burns to correct proofs at William Smellie's printing office, and Stevenson's wardrobe made by the infamous Deacon Brodie whose double life may have inspired the novel The strange Case of Dr Jekyll and Mr Hyde.
Robert Burns
The rise of Robert Burns (1759-1796) from 'ploughman' to poet and darling of Edinburgh society is the stuff of legend. The Writers' Museum holds an outstanding collection of personal objects, published works and manuscripts relating to one of Scotland's best-loved poets.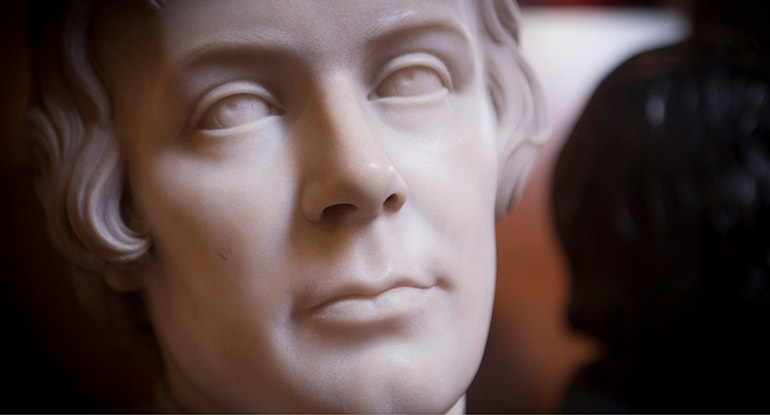 Robert Louis Stevenson
This collection at the Writers' Museum evokes the adventurous life of one of Scotland's best-loved writers. It includes portraits and photographs, personal possessions and books, as well as treasures from Stevenson's travels.
Sir Walter Scott
A fascinating collection of items relating to the great Scottish writer and poet Sir Walter Scott (1771-1832), raning from a printing press and chess set to an inkwell and published works.
Robert Burns 15 Fun Facts
Learning and engagement
Ruka is a History student at Oxford, who interned with Museums & Galleries Edinburgh this year and Ruka's research interests are in cultural belonging and subjectivity, and how people use, construct and depend on culture to understand themselves and the world around them. Ruka wrote the 2 articles below with one other examining legacies of slavery and colonialism in our collections. 
Makars' Court
Outside The Writers' Museum you will find Makars' Court: a peaceful public space with beautifully inscribed flagstones which celebrate Scottish writers from the 14th century up to the present day.
Makars' Court is the perfect place to unwind, reflect on the talents of Scotland's wordsmiths and soak up the atmosphere of this historic quarter of the Royal Mile. Makars' Court is an evolving national literary monument, with new stones added regularly.
The Writers' Museum Access Guide
Click on the link below to see our comprehensive access guide and find out how you can get to and around the The Writers' Museum:
Writers' Museum BSL Tour
A little treasure right off the hustle and bustle of the royal mile. A must. Jeri, Tripadvisor