**Due to unforeseen circumstances, the Scott Monument will be closed on Tuesday 5th December. We apologise for any inconvenience**
Standing proudly in Princes Street Gardens, the Scott Monument is one of the most iconic Edinburgh landmarks, a must-visit for tourists and locals alike. Dedicated to Sir Walter Scott, it is one of the largest monuments to a writer anywhere in the world. 
Join one of our tour guides to find out who Sir Walter Scott was,  why such an impressive monument was in his honour and enjoy the breathtaking views of Edinburgh from our third floor viewing platform - a truly unforgettable experience! 
Tickets can be purchased from the Scott Monument kiosk on arrival. Please note pre-booking is not currently available. 
We are open 7 days a week from 10 am to 3:30 pm (which is the last tour). The Scott Monument is closed daily for lunch 12:30pm-1:45pm.
More about the Monument
On the death of Sir Walter Scott in 1832, the great and good of the city came together to agree on a fitting monument to this outstanding Scottish literary figure.
In 1836, an architectural competition was launched, inviting designs for an appropriate memorial. Two years later, the trustees approved the design submitted by George Meikle Kemp, and construction began in 1840.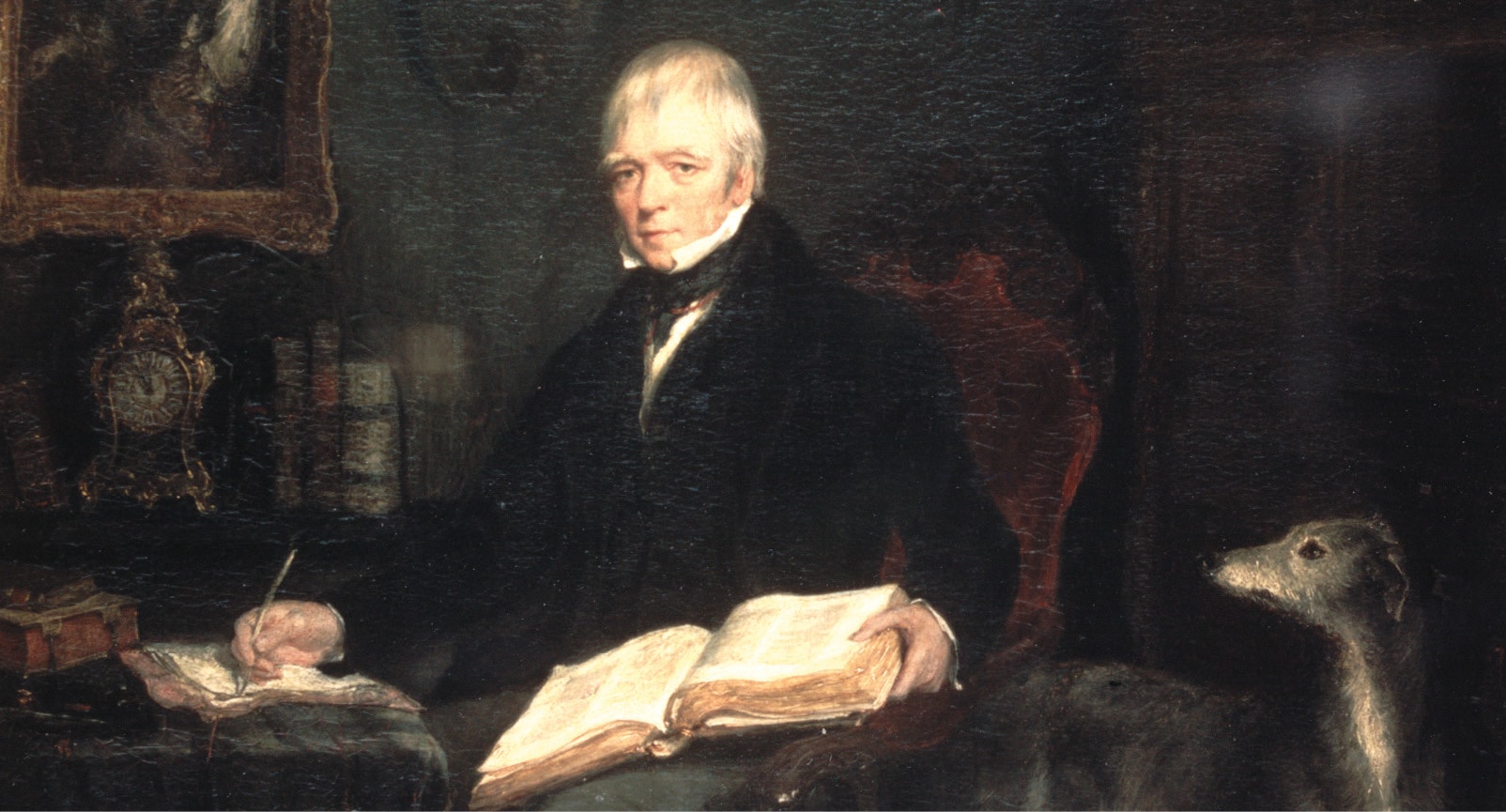 The story of the monument, and much more, is told within the monument's Museum Room on the first floor. Visitors can discover more about Scott himself, his tumultuous life, his legacy on international literature, as well as the memorial built in his honour. Sound points enable visitors to listen to extracts from his writings.
The Museum Room is also the best place to view four magnificent stained-glass windows, designed by leading 19th century Scottish artist David Roberts and made by James Ballantine. They feature two saints, Andrew and Giles, as well as the coat of arms of the City of Edinburgh and the coat of arms of Scotland. The room also provides a welcome pause before embarking on the climb to 3rd viewing platform.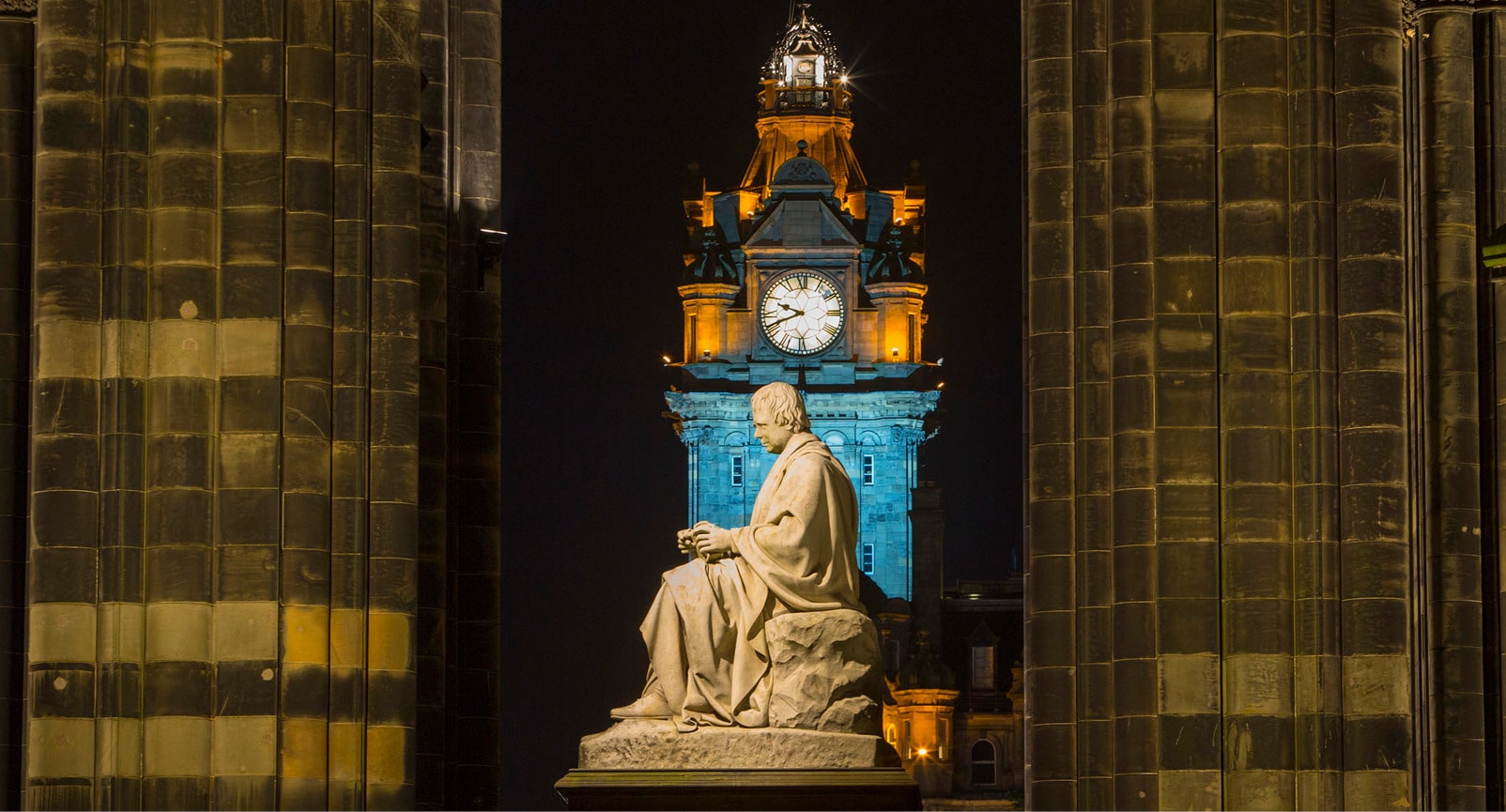 Sitting proudly at the base of the monument is Sir Walter himself, carved in Carrara marble by Sir John Steell. This monumental statue, fashioned from a single piece of marble weighing 30 tons, took the sculptor six years to complete. It features Scott and his beloved hound Maida.
Visitors can find out more about Sir Walter Scott by calling into another of our city museums. The Writers' Museum, just 7 minutes' walk from the monument, is free to enter and is open from Wednesday to Sunday each week. The museum includes a display on Scott, with original artefacts that belonged to the great writer.
Scott Monument Access Guide
Click on the link below to see our comprehensive access guide and find out how you can get to and around the Scott Monument:
Undeniably cool... Sir Walter Scott's monument is an amazing Gothic structure. The views are fantastic from all four levels you can climb to, and it's fun to be able to say you got to the top! I'm glad I did it. Ridgewood, New Jersey
The Scott Monument is a 3 Star Attraction