**We remain closed for the time being due to post pandemic maintenance. We're looking forward to reopening soon although we don't have a date to share yet.**
The Museum of Childhood was the first museum in the world to be dedicated to the history of childhood and it attracts over 200,000 visitors a year.  Amongst the displays you will find toys, games, clothes, books and dolls, dating from the 1800s to the present day.
Following a major refurbishment in 2018 the Museum of Childhood now has a new interactive gallery which explores a child's life at home, at school and at play. Newly displayed items include favourites such a Buzz Lightyear action figure, a Fisher-Price Chatter Telephone and an Xbox as well as more unusual items such as Radio Rex – a 1920s voice activated toy.
There are five galleries to explore throughout which you will find fascinating and rare objects as well as toys you may recognise from your own childhood. 
See you soon!
Collection Highlights
The collection at the Museum of Childhood explores all aspects of British childhood from the mid 19th century to the present day. Play and entertainment are represented by toys, games, dolls, fancy dress, items relating to hobbies and pastimes, books, magazines and comics. Childcare and life at home, nursery and school also feature, along with a substantial costume collection reflecting children's fashions and lifestyles. The museum also has a photographic archive.
Highlights of the collection include: 
Queen Anne Doll The oldest toy in the collection, a rare wooden fashion doll dating from c1740
Shoe Doll A doll made in London c1905 from the sole of a shoe and scraps of household fabric. A poignant reminder of families who couldn't afford to buy toys, saved for posterity by British collector, Edward Lovett.
Raleigh Chopper bicycle A style icon of the 1970s​
Kindertransport bear A tiny Steiff teddy bear which travelled out of Vienna on the last Kindertransport train to rescue Jewish children from Nazi Germany in 1939
Stanbrig Eorls The largest dolls house in the museum's collection. Begun by Lena Graham Montgomery in 1894, she continued to collect for it and extend it throughout her life. Eventually, it had 19 rooms with electric light and running water. It was exhibited to raise funds for charity before being donated to the museum on the 1960s
Peter Rabbit soft toy A Steiff toy from the early 20th century representing the character from Beatrix Potter's much-loved and perennially popular story. One of the first examples of merchandising for children.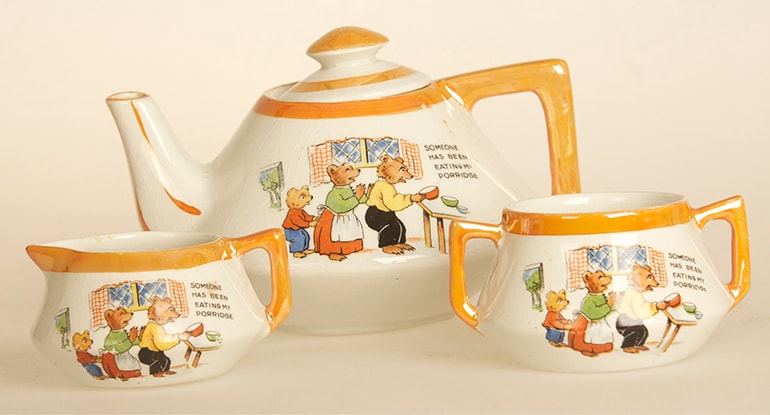 Museum of Childhood Access Guide
Download our comprehensive access guide to find out how you can get to and around the Museum of Childhood. 
This little place is going to make you smile from the sheer simplicity of a bygone childhood. Liz, Tripadvisor