Bright Shadows: Scottish Art in the 1920s is timed to mark 100 years since the dawn of the 'Roaring Twenties'. The exhibition showcases over 35 artworks selected from the City Art Centre's own collection of fine art, including oil paintings, watercolours, drawings, etchings and sculptures. Featured artists include D.Y. Cameron, Stanley Cursiter, Dorothy Johnstone, William McCance, Eric Robertson and William Wilson, as well as the Scottish Colourists S.J. Peploe and J.D. Fergusson.
For many, the 1920s is an era that conjures up images of Art Deco design, jazz music and flapper dresses. Yet this is only one side of the story. It was a decade of contrasts: high spirits interwoven with sombre contemplation, and grand aspirations tempered by hard realities. Some people reflected on the recent losses of the First World War, while others looked forward to an age of new possibilities and opportunities. Scottish artists experienced these contrasts first-hand, and responded to them in a variety of ways.
One of the highlights of the show is the painting Cecile Walton at Crianlarich (1920) by Eric Robertson. This striking portrait of the artist Cecile Walton is a brand-new addition to the City Art Centre's collection. It arrived in late 2019 as a long-term loan from a private collector, and goes on public display for the first time as part of Bright Shadows. The exhibition will also feature A Garment of War (c.1926) by D.Y Cameron, which is being shown for the first time since recent conservation work to restore the painting to its original splendour.    
Bright Shadows shines a light on this fascinating period, exploring the styles, ideas and events that shaped artistic practice in Scotland. The exhibition brings together work by a range of artists, from mature figures like George Henry and S.J. Peploe who were already well-recognised and celebrated, to younger talents like William Johnstone and James McIntosh Patrick who were just beginning to forge their own creative paths.
Visitors to the gallery can also enjoy the free mini display Joan Eardley (1921 - 1963). Four artworks from the City Art Centre's permanent collection are on display: Girl in a Striped Cardigan, Tenement, Old Woman Sewing and July Fields. The display is available to view on the ground floor until 10 October 2021 - this is part of the nationwide programme of events marking the centenary of the birth of Joan Eardley.
Iona, Mull and Ben More in the Distance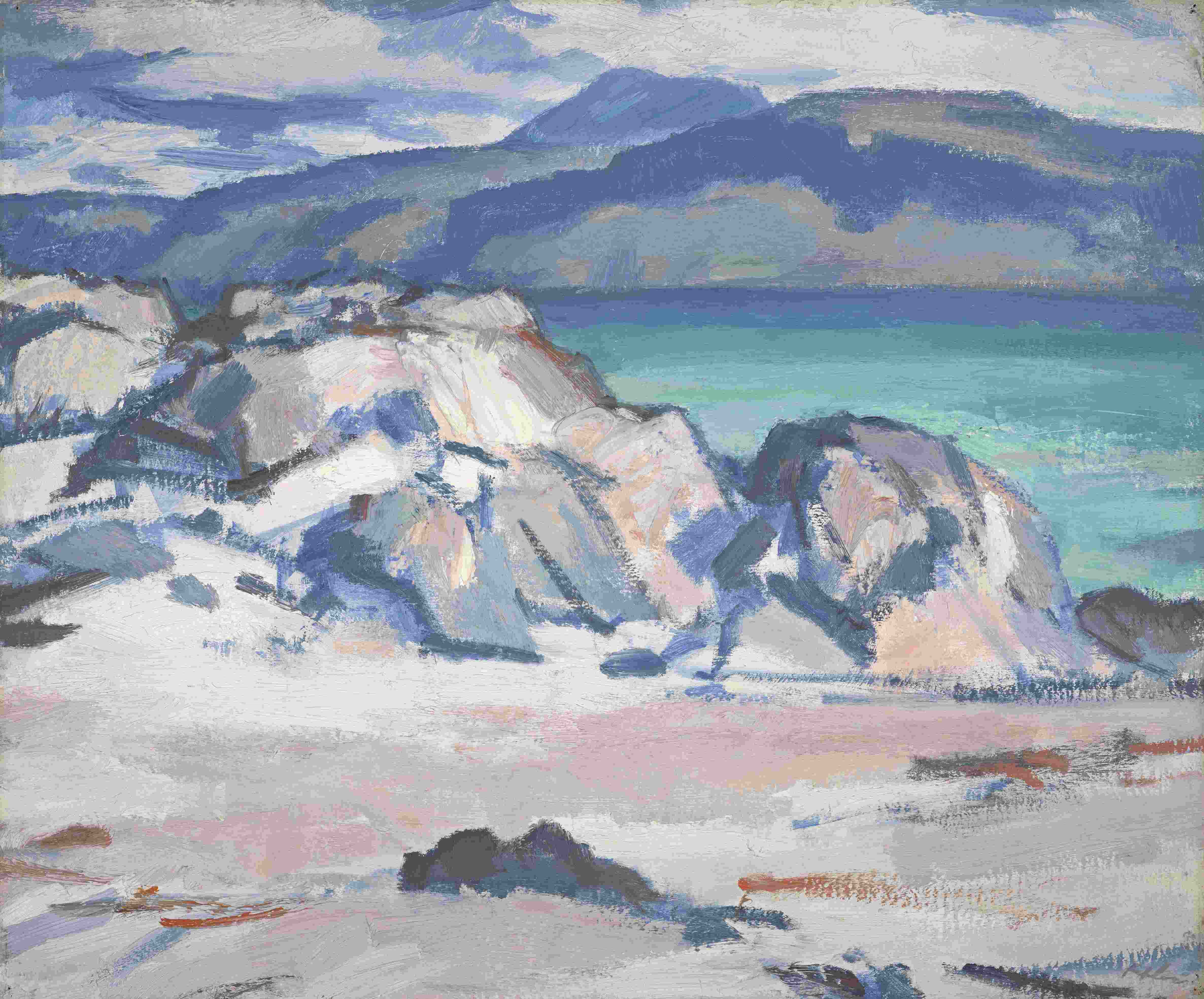 Iona, Mull and Ben More in the Distance
oil on canvas, c.1929
Samuel John Peploe RSA (1871-1935)
The Scottish Colourist S.J. Peploe was first introduced to Iona in 1920 by his friend and fellow artist F.C.B. Cadell. He proceeded to return to the island almost every year until his death in 1935. The peaceful atmosphere offered him a sense of freedom and mental rejuvenation, while the brilliant white beaches proved an enduring source of inspiration. Peploe's paintings of Iona cemented his reputation during the 1920s, and still remain among his most iconic works. 
Rather than depict the grassy southern end of the island, the artist favoured painting in the north, taking advantage of the views towards Mull. He often worked outdoors, sometimes in a single sitting.
On long-term loan from a private collection
A Garment of War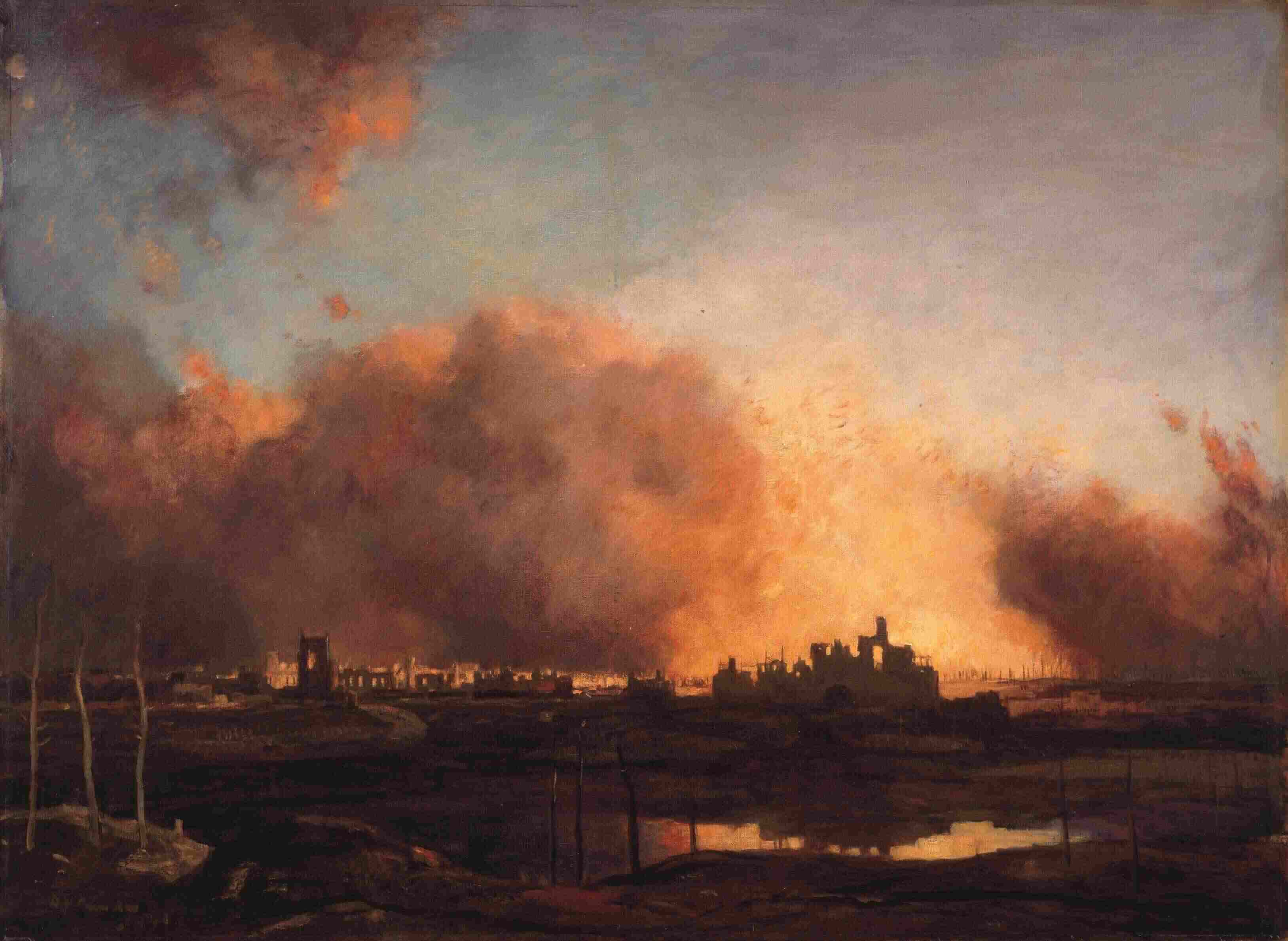 A Garment of War
oil on canvas, c.1926
Sir David Young Cameron RA, RSA, LL.D., ARSW, RWS (1865-1945)
The First World War had a profound effect on many Scottish artists. Although D.Y. Cameron was too old to enlist, he accompanied the Canadian Expeditionary Force as an official war artist.
He spent the autumn of 1917 with troops at Passchendaele and the Vimy-Lens front, sketching under constant threat of shelling and sniper fire. In January 1919 he returned to work near Ypres, gathering material for both Canadian and British government commissions.
For several years Cameron was occupied almost exclusively with battlefield landscapes. A Garment of War was the final large canvas in this series, produced in the mid-1920s. The scene of shattered buildings silhouetted against a blazing sky is a potent reminder of the devastation of war.
Presented by the Scottish Modern Arts Association, 1964
Spring Morning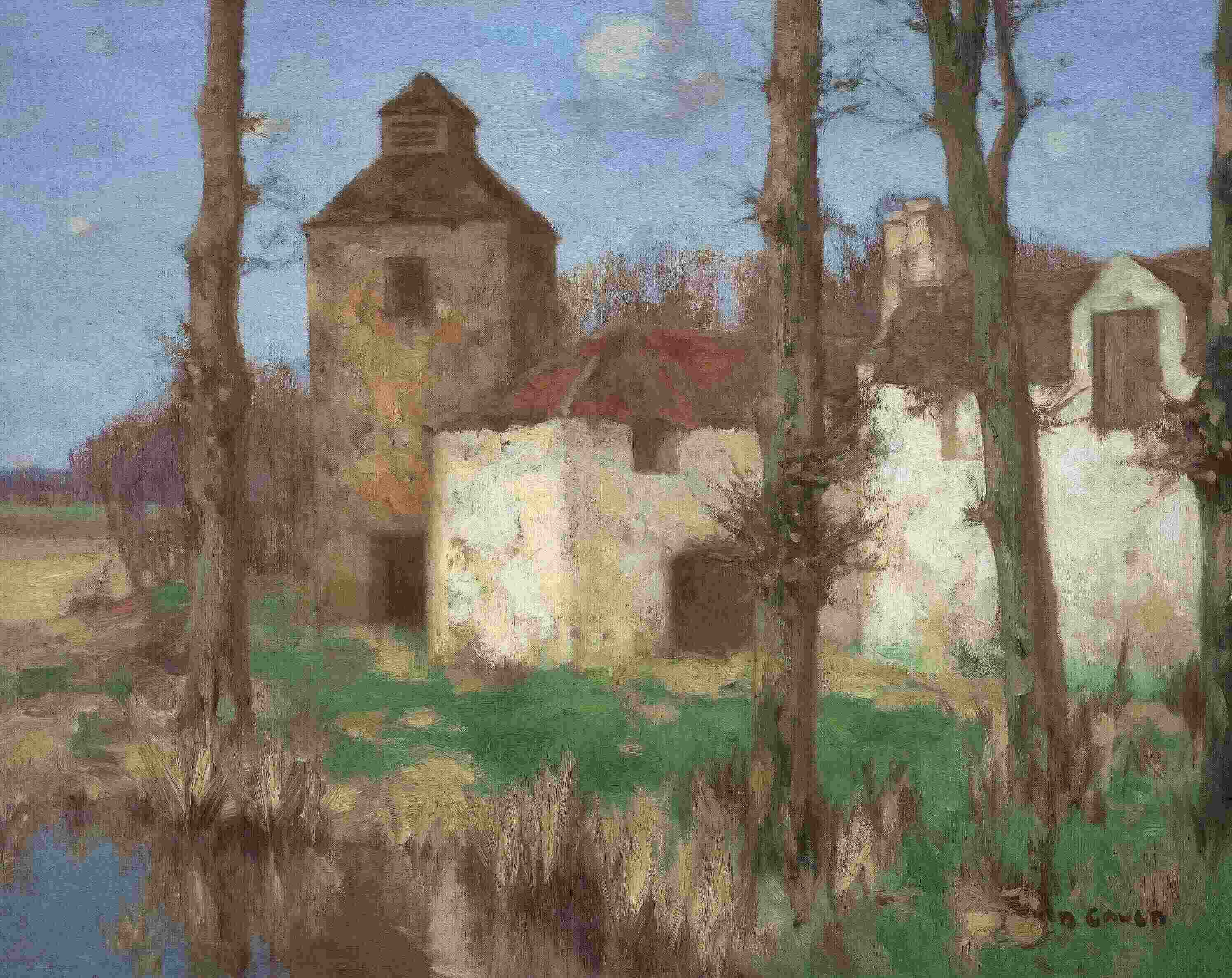 Spring Morning
oil on canvas, c.1927
David Gauld RSA (1865-1936)
David Gauld is one of the lesser-known artists associated with the Glasgow Boys. During the 1880s and 1890s he was one of the innovators of the group, creating illustrations, paintings and stained glass designs with a strong Symbolist aesthetic.
Spring Morning is characteristic of his later work. Gauld was drawn to semi-derelict buildings in rural locations, and painted many such scenes of farmhouses, barns and mills glimpsed through trees. The setting of this picture has not yet been identified; it could be somewhere in Scotland or France.
Gauld was elected as a full member of the Royal Scottish Academy in 1924. This canvas was exhibited at the Academy's annual exhibition in 1927.
Presented by the Scottish Modern Arts Association, 1964
Dreams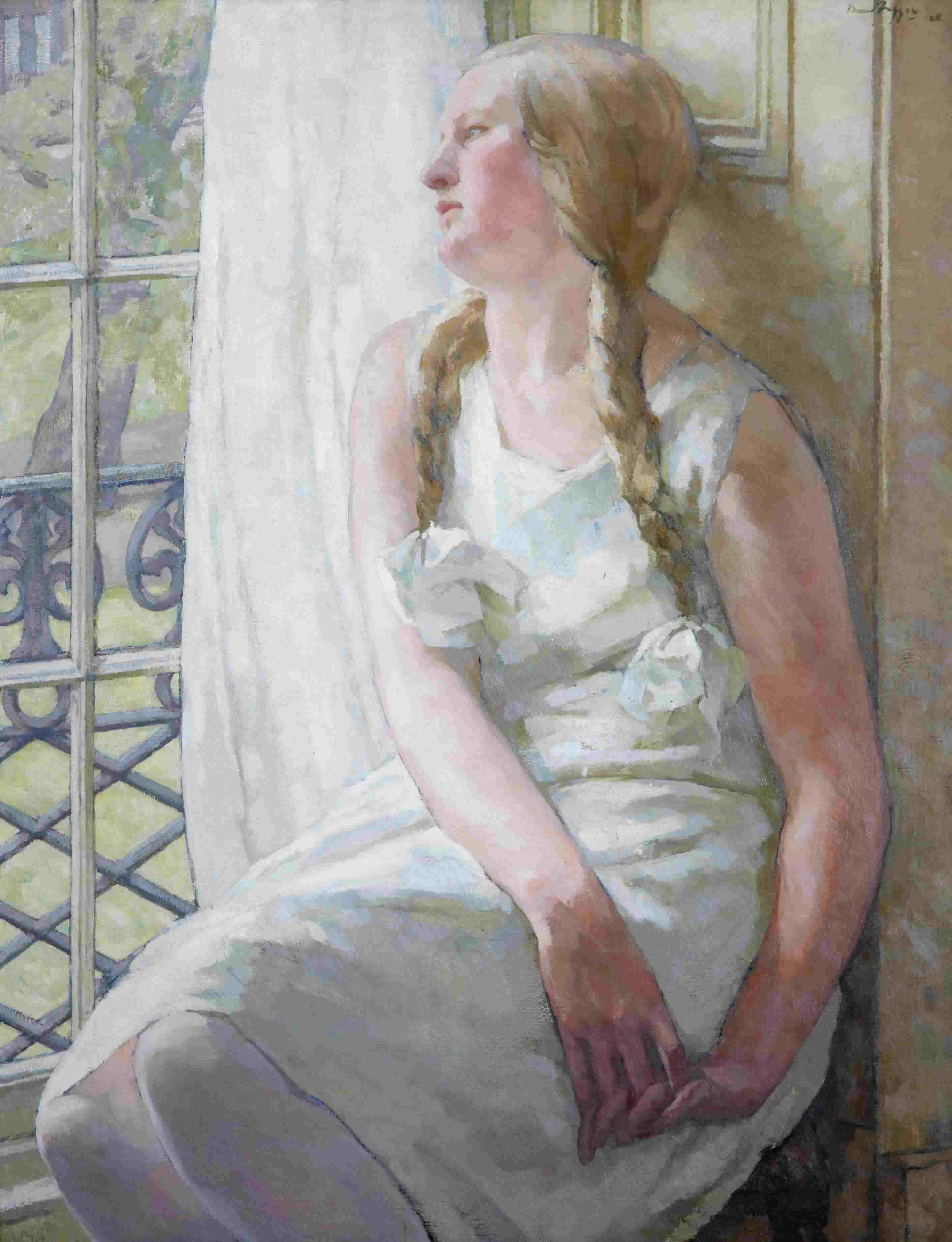 Dreams
oil on canvas (laid down), 1928
David Foggie RSA, RSW (1878-1948)
The First World War created an uncertain economic climate for artists. Prior to the conflict, collectors and dealerships sustained many careers through sales of works. However, patronage and commercial support dwindled in later years, leading artists to seek additional forms of income. Teaching, at least on a part-time basis, became increasingly common.
Dundee-born artist David Foggie started teaching at Edinburgh College of Art in 1919. He spent the 1920s on a distinguished body of staff that included Henry Lintott, Adam Bruce Thomson, D.M. Sutherland and Dorothy Johnstone.
As a tutor, Foggie placed great emphasis on composition, tonal relations and accurate drawing skills. Dreams demonstrates his own accomplishments in these areas.
Presented by the Scottish Modern Arts Association, 1964
Rest Time in the Life Class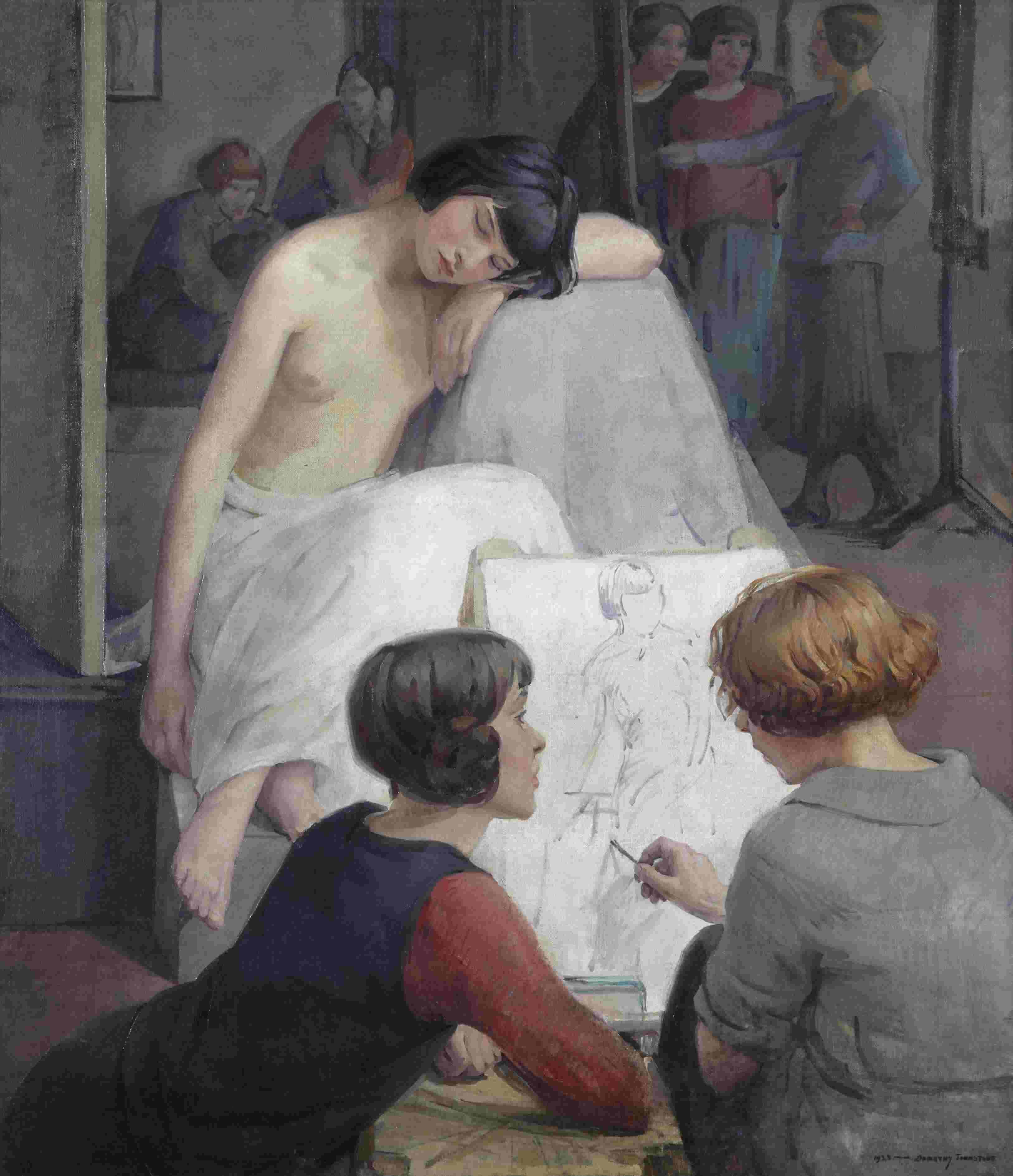 Rest Time in the Life Class
oil on canvas, 1923
Dorothy Johnstone ARSA (1892-1980)
Dorothy Johnstone was just 16 when she enrolled at Edinburgh College of Art. Having excelled as a student, she joined the college's teaching staff in 1914.
This painting offers a glimpse into one of Johnstone's classes. A life model is shown taking a break from posing, while students discuss and refine their compositions. Johnstone herself appears in the top right corner, working at an easel.
Rest Time in the Life Class was displayed in 1924, the same year that Johnstone married the artist D.M. Sutherland. She was subsequently obliged to resign from her teaching position, as married women were barred from holding full-time posts. Although opportunities for women artists slowly improved during the 1920s, discrimination remained common.
Purchased from the artist (Jean F. Watson Bequest Funds and government grant-in-aid), 1980
Portrait of an Artist, William Skeoch Cumming (1864-1929)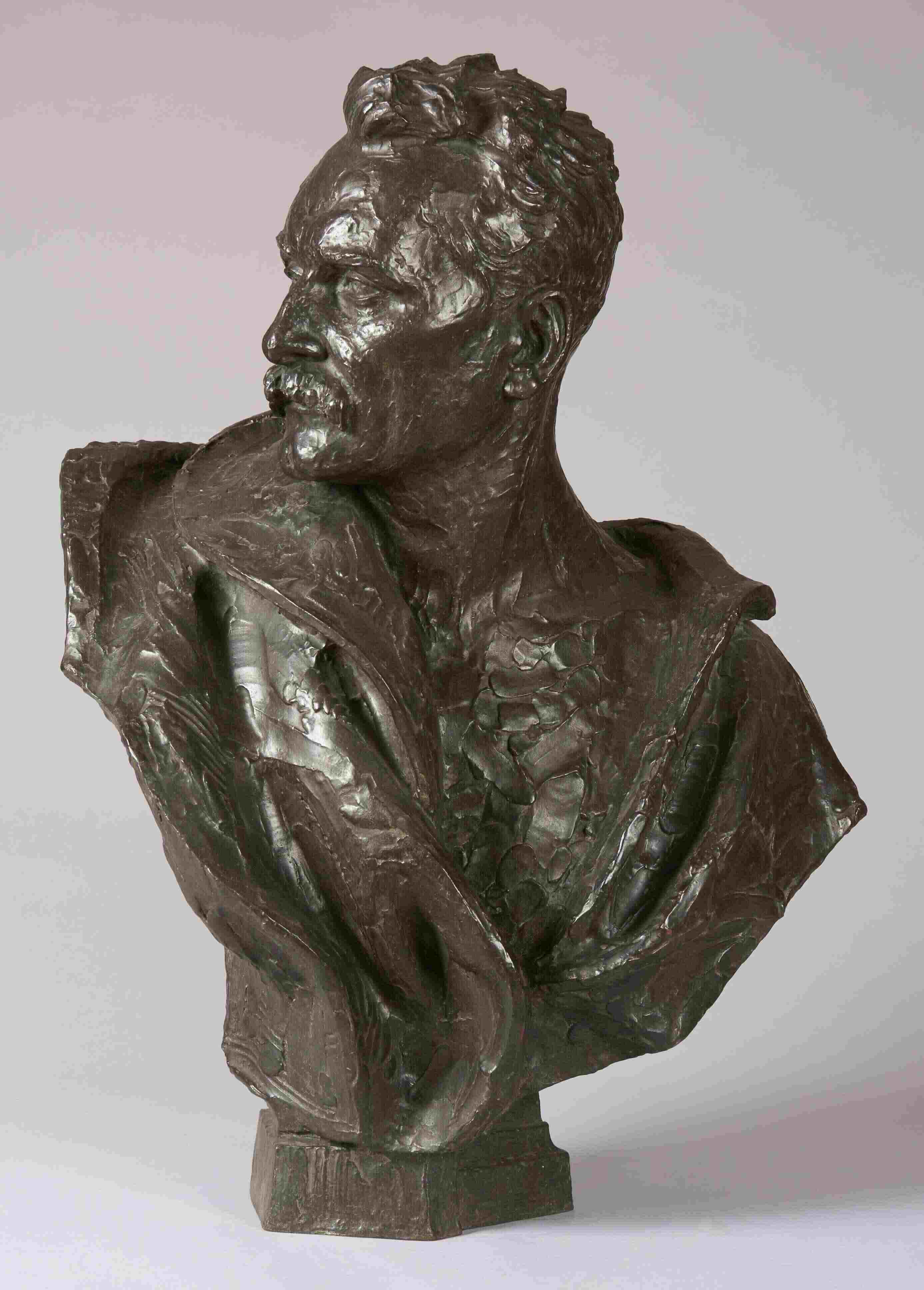 Portrait of an Artist, William Skeoch Cumming (1864-1929)
bronze, 1920
James Pittendrigh MacGillivray RSA, LL.D. (1856-1938)
James Pittendrigh MacGillivray was a painter, poet and musician, though he is chiefly known as a sculptor. Originally from Aberdeenshire, he moved to Glasgow in 1876, where he became associated with the Glasgow Boys.
This bronze bust dates from 1920, when MacGillivray's career and reputation were firmly established. The subject is the painter and designer William Skeoch Cumming, a friend who shared MacGillivray's interest in Scottish history and culture.
MacGillivray was a Scottish nationalist and supporter of home rule. An early proponent of the 'Scottish Renaissance', his poems were often written in Scots dialect. In 1922 he published a volume of verse entitled Bog-Myrtle and Peat Reek.
Presented by the Scottish Modern Arts Association, 1964
National Gallery and Castle, Edinburgh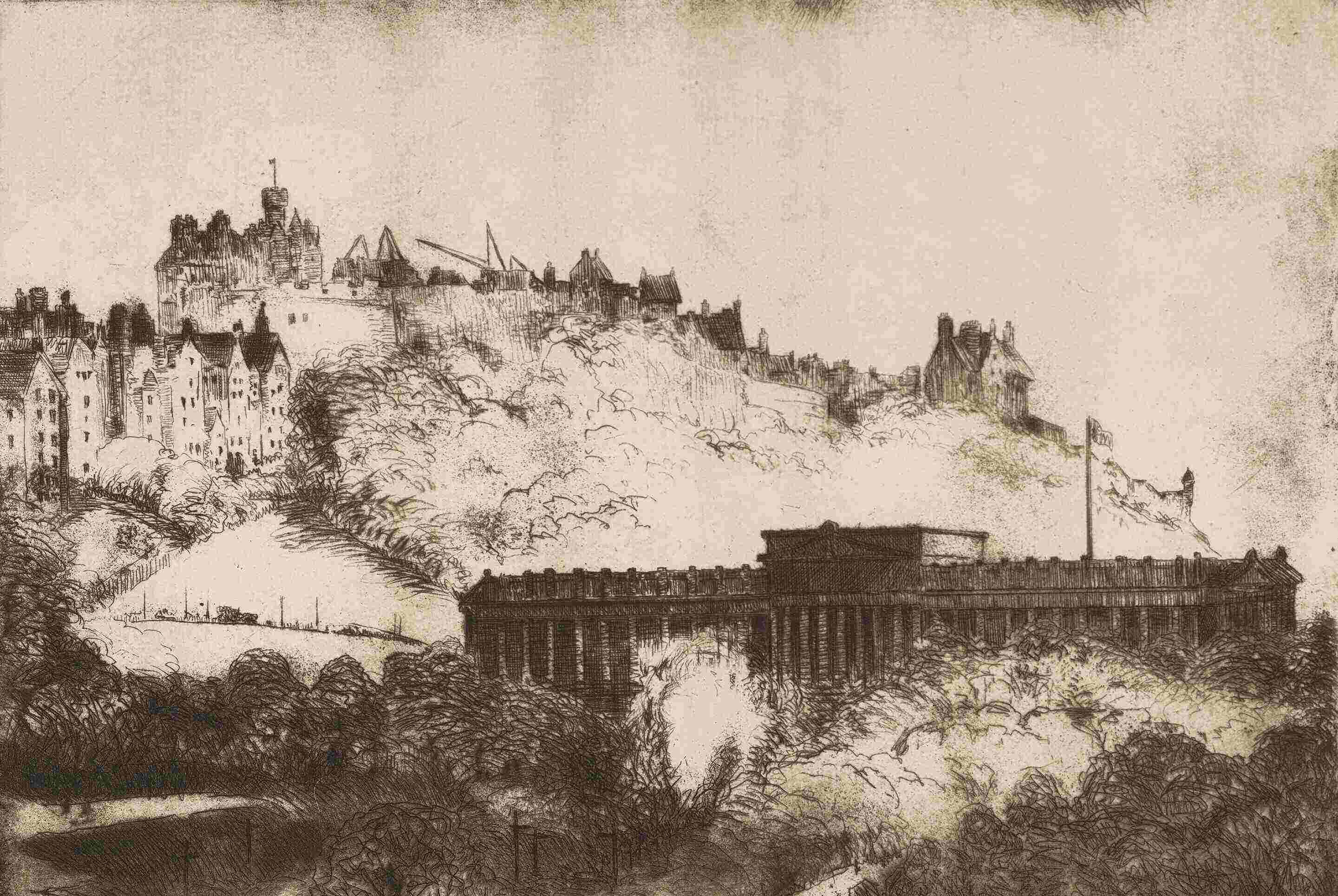 National Gallery and Castle, Edinburgh
etching on paper, 1925
Nicol Laidlaw RSA (1886-1929)
The Scottish National War Memorial was the most significant public art project to take place in Scotland in the 1920s. Designed by the architect Robert Lorimer, and located within the precincts of Edinburgh Castle, the Memorial was devised to honour the causalities of the First World War on a national scale. Construction work began in 1923 and continued until 1927.
This etching by Nicol Laidlaw records the progress of the project in 1925. A series of cranes and temporary structures can be seen on the horizon, gradually transforming Edinburgh's architectural skyline.
The revival of printmaking was a major trend in Scottish art during the 1920s. Increasing numbers of artists earned a living making etchings for a buoyant commercial market.
Presented by an anonymous donor, 2016
To explore more works presented as part of the Bright Shadows exhibition please visit Art UK's 'Curations' digital exhibition here. 
Bright Shadows: Scottish Art in the 1920s