Happy Volunteers' Week! Each year during 1-7 June we celebrate the amazing contribution that volunteers make to Museums & Galleries Edinburgh. At the start of this year we were delighted to recruit a new group of volunteers to help with our schools programme. We welcomed twelve new volunteers to assist our Schools Engagement Officer, Hannah, with schools workshops at the City Art Centre and Lauriston Castle. In this blog we hear from Megan who is one of our School Workshop Volunteers.
My name is Megan and I have just completed my final year studying history at the University of Edinburgh. I discovered the opportunity to volunteer as a school workshop assistant at the City Art Centre through an Instagram post by my University's Arts and Heritage society. As someone who enjoys art, going to galleries and museums and working with children - this opportunity sounded perfect for me. I started helping in January of this year, it has fit well into my university routine and given very fun breaks from studying!
My first volunteering session was at the City Art Centre, this was also one of the first school sessions there after Covid. I helped Hannah with a P5 class from Royal Mile Primary School. Together, we explored the exhibitions including viewing the Lorimer paintings. I noticed that for many of the children it was their first time in a gallery and that they were so excited to be here. We then went up to the 5th floor, where I helped the children create a collage of their own room setting inspired by Lorimer. There was a variety of materials available for the children to use and they loved having the freedom to be creative. Both the children and I were in awe of the amazing view of Princes Street from the gallery. It was a beautiful backdrop for the beginning of my volunteering experience.
My experience as a school workshop assistant has been invaluable in discovering the amazing variety of arts and heritage settings Edinburgh has to offer. It has also shown me how art can be uniquely practiced in each place. I helped a group of children from Abbeyhill Primary School paint an outdoor wildlife mural for the courtyard at the Museum of Edinburgh. The murals they created were bright and captured multitudes of wildlife, from urban foxes to toads to ants. I loved being part of making something that will be a feature of the museums' garden and I can't wait to visit when the museum opens over the summer. A bonus reward was a selection of delicious cakes for the kids and volunteers from Mimi's bakehouse! 
Recently, I was invited to assist a school's session at Lauriston Castle. This is somewhere I didn't actually know about before volunteering! I was grateful that volunteering allowed me to go visit it. I helped a class from Pirniehall Primary School explore the Japanese gardens of the castle on an art trail. Additionally, we did tree rubbings on the grounds that were then used for a forest picture. My favourite part of the day was helping the children with their watercolour paintings of the beautiful landscape views across the Firth of Forth. Although it rained while the kids were painting, we didn't let that stop us. It was amazing to see how proud all the children were of their paintings. I have thoroughly enjoyed being a school workshop volunteer, and can't wait to help out more in the future.
If you are interested in volunteering you can find out more on our volunteer page. We will be looking for more volunteers to help in a variety of roles over the summer.
The mural painting workshop with Abbeyhill Primary School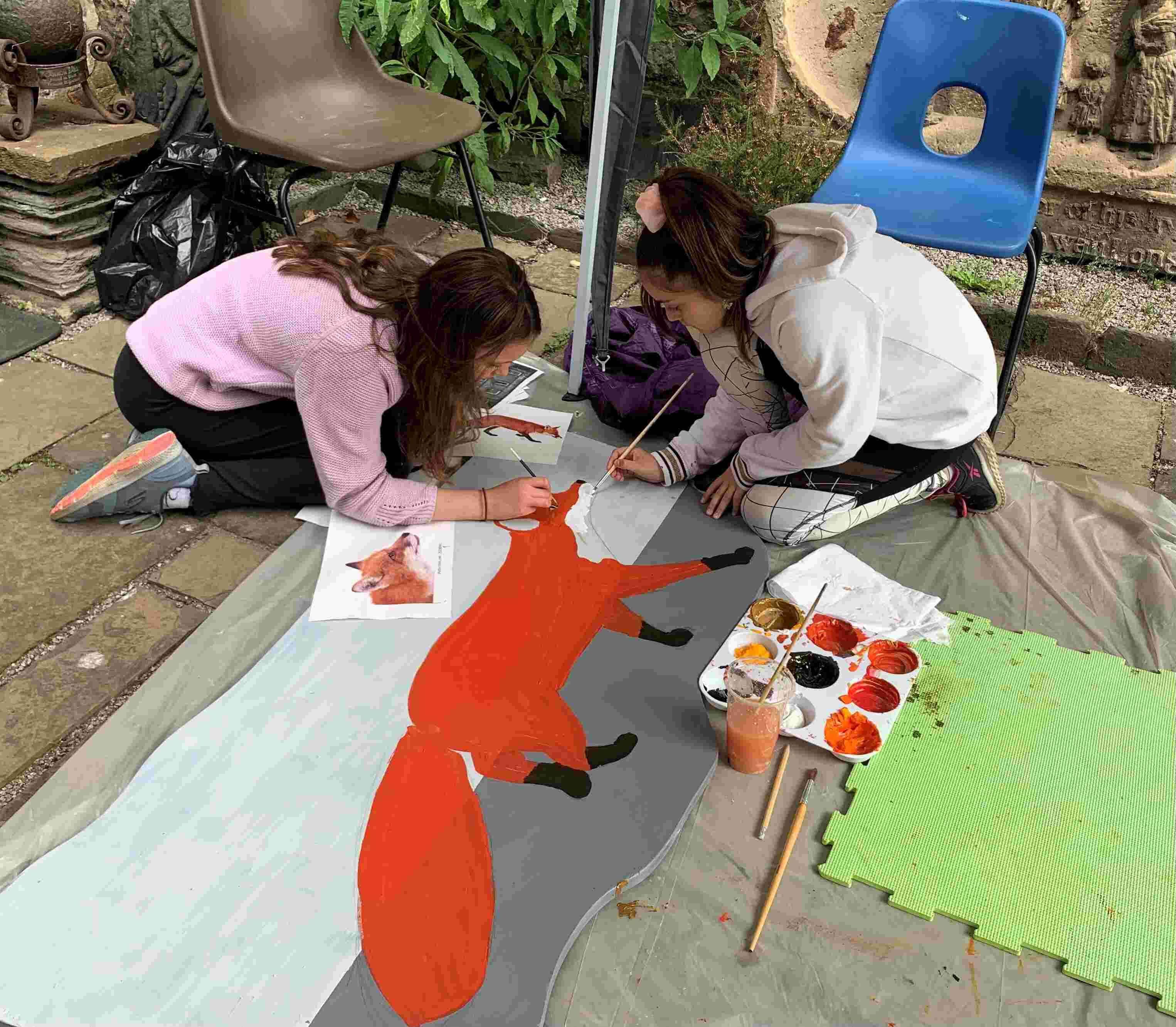 Megan helping at a school workshop at Lauriston Castle