We are delighted to announce our February winners from our Art Club with Hannah sessions. Whilst our museums and galleries are closed to the public, we have developed an art programme that can be delivered to primary schools digitally until we can welcome everyone back to our venues again. Our Schools Engagement Officer Hannah has been running live, weekly art sessions with primary schools via Teams to support at home learning. These art sessions are inspired by paintings from the City Art Centre as well as our Edinburgh museum collections such as the Museum of Childhood. They encourage children to discuss artworks and objects and to get creative and the sessions require minimal materials such as pens, pencils and paper.  
For session one the theme was portraits. Inspired by portrait paintings from the City Art Centre collection such as Lex Braes 'Nelson Mandela (1918–2013) at Nineteen' and Alfred Edward Borthwick's  'Marjorie' the pupils created line drawings of themselves or someone else and they had the option to include next to their portrait, something that the person in their picture loves, such as their pet or favourite item. For session two the theme was fantasy creatures. Inspired by the mythological paintings of John Duncan from our City Art Centre collection, in particular 'The Taking of Excalibur', the pupils used their imagination to create their own fantasy creatures. The children gave their creatures names and some pupils wrote stories and descriptions for them. The results were fantastic!
 
The winners for February were voted for by members of our museum and galleries staff. We had so many brilliant entries that it was a difficult choice, but the top artworks were:
Gold award - Anthony from Niddrie Mill Primary -  'Me and my scooter'
We love Anthony's attention to detail in this portrait. This is an excellent full-length drawing and we can see that he has carefully considered pose and facial expression. It is clear to see that his scooter brings him such joy.  Well done Anthony!
Silver award – Mohid from Forthview Primary – 'Spider Monster'
Our judges thought that Mohid's use of imagination was fantastic. His thoughtful, detailed list of descriptions for his Spider Monster really brings his drawing to life. Great work Mohid!  
Bronze award – three joint winners:
Kayla from Forthview Primary – 'The Pocacfopeely!'
We thought that Kayla's fantasy creature was fabulous. It is clear to see that she has taken the time to think about the way that the different body parts of her creature come together. Kayla has used a fantastic variety of colours and patterns to create a bold and eye-catching artwork. Well done!
Rosie from Pirniehall Primary – 'Rosie and Daisy'
It is clear how much Rosie loves her cat Daisy. This is such a lovely portrait with excellent attention to detail, Rosie has even included the logo on her jumper and the different markings on her cat. Really well done.
Maci from Pirniehall Primary – 'Moose Legs'  
This artwork by Maci shows great drawing skills of different animal body parts. A lot of thought has gone in to creating this fantastical creature and it shows. Well done Maci!
Me and my scooter, by Anthony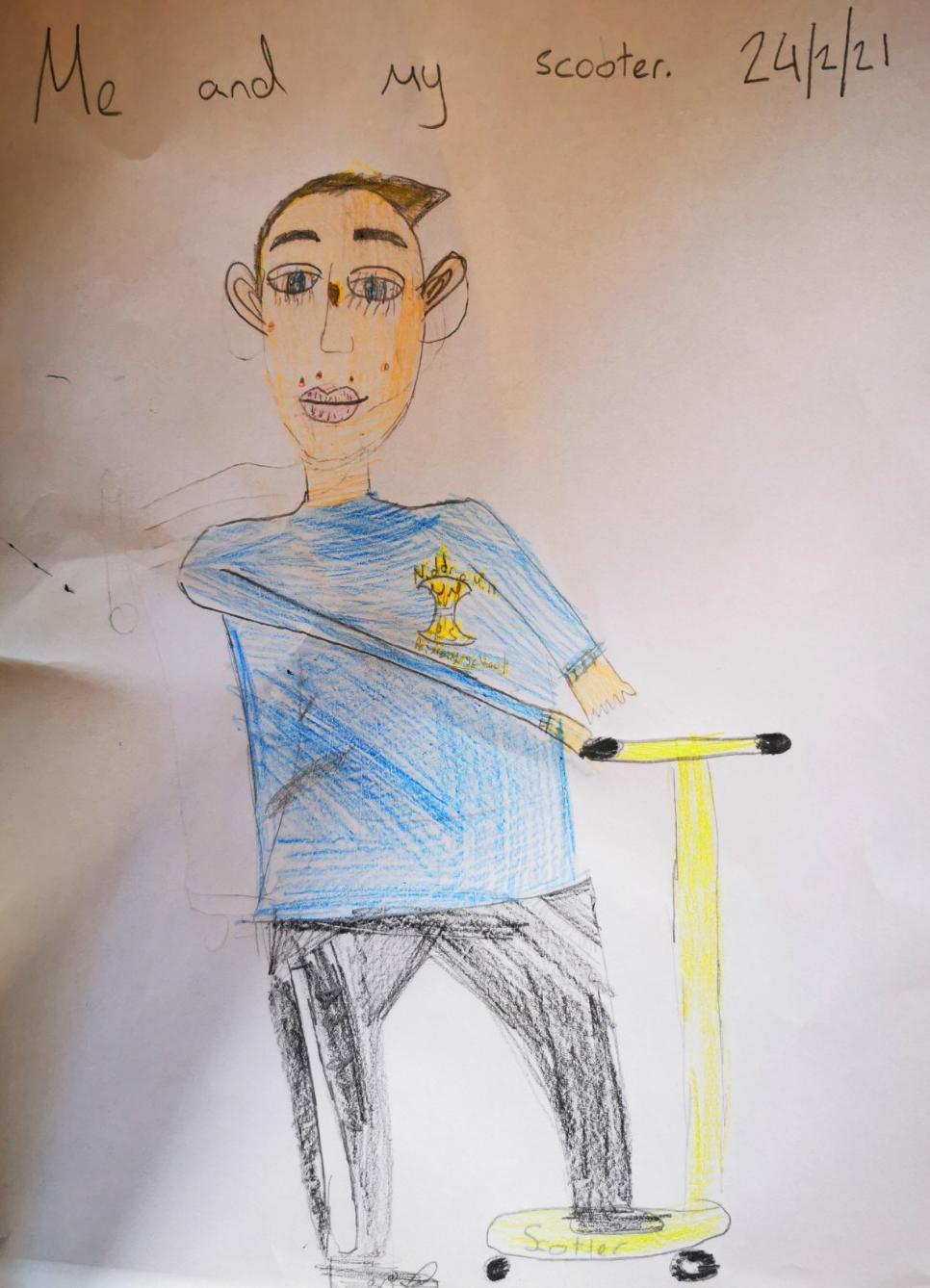 Spider Monster, by Mohid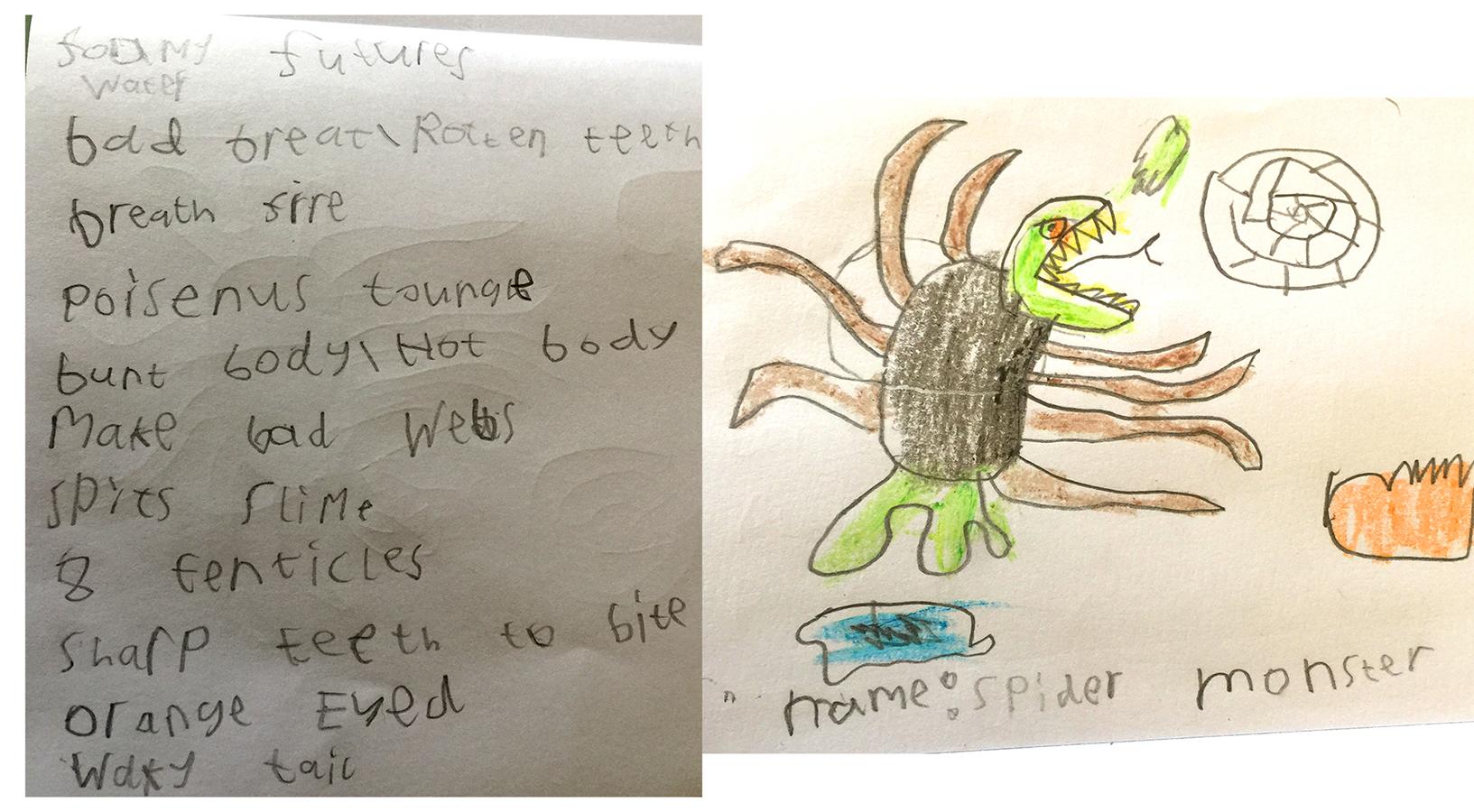 The Pocacfopeely!, by Kayla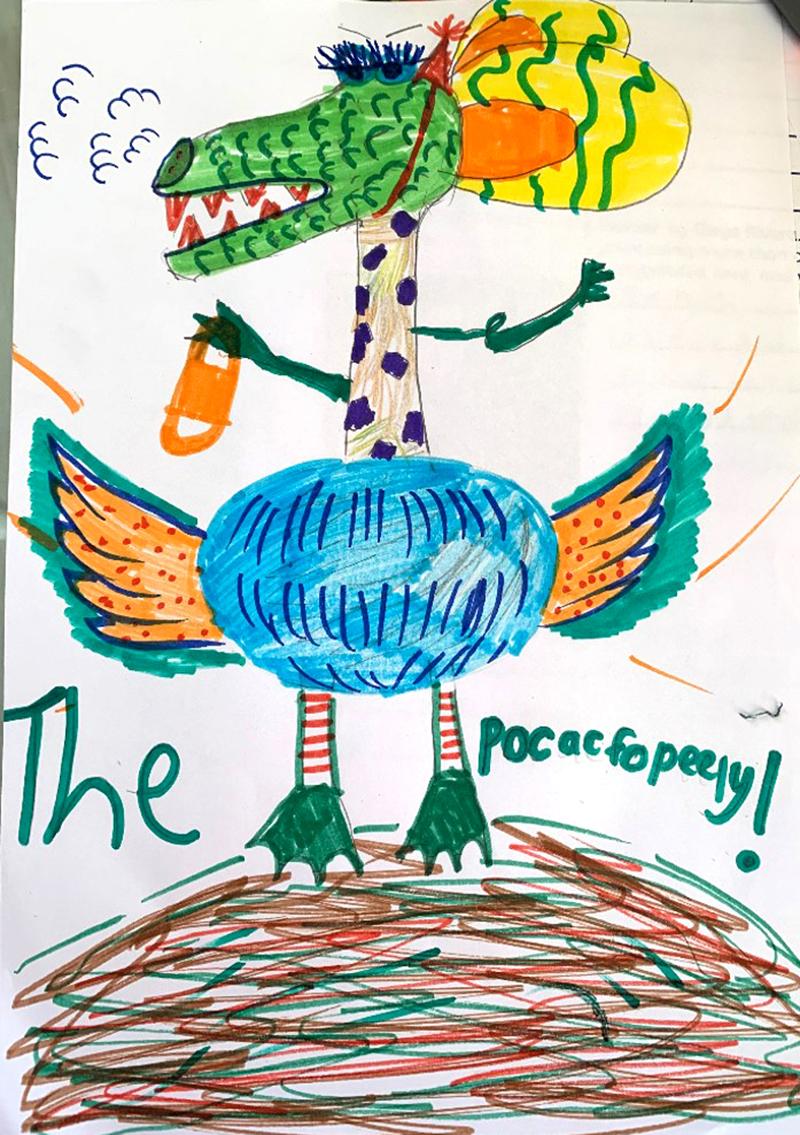 Rosie and Daisy, by Rosie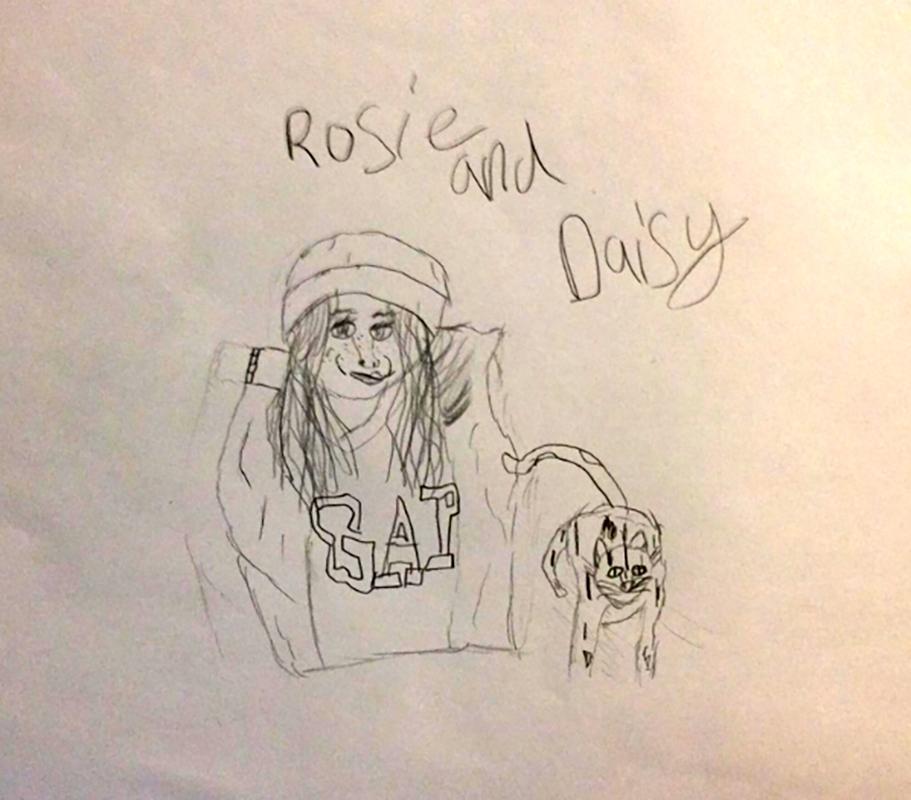 Moose Legs, by Maci