Auld Reekie Retold is a major three year project which connects objects, stories and people using Museums & Galleries Edinburgh's collection of over 200,000 objects. Funded by the City of Edinburgh Council and Museums Galleries Scotland, the project brings together temporary Collections Assistants and permanent staff from across our venues. The Auld Reekie Retold team are recording and researching our objects, then showcasing their stories through online engagement with the public. We hope to spark conversations about our amazing collections and their hidden histories, gathering new insights for future exhibitions and events. 
In this blog, Susan Gardner, Curator, explores the story of some of the needlework samplers in the Museum of Childhood collection.
There are around 120 samplers in the Museum of Childhood collection, dating from the late 18th century to the 1930s. Some are highly detailed works of art while others are much simpler, but they all have stories to tell about the girls and young women who made them.  During the Auld Reekie Retold project, we will have the opportunity to do further research on the sampler collection and unlock some of the personal stories behind these objects.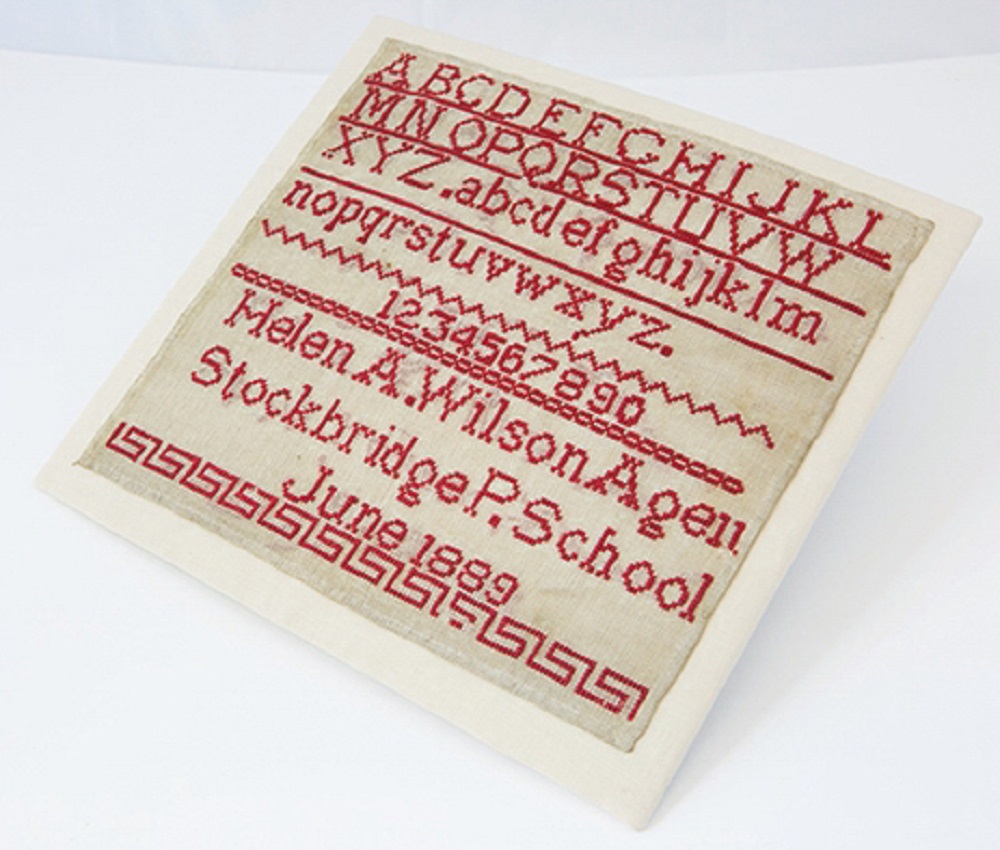 Most of the Museum's examples fall into the category of simple 'schoolgirl' samplers and many were made in Edinburgh. This sampler was made in 1889 by 11 year old Helen A. Wilson at Stockbridge Public School. Following the Education (Scotland) Act which made elementary education compulsory for all children up to the age of 13, the newly formed Edinburgh School Board created many new schools. Stockbridge was one of the first, opening in 1878, designed by the renowned architect, Robert Rowand Anderson.
The education offered at board schools was basic – reading, writing and arithmetic – but while boys were often taught additional subjects, girls spent a large proportion of time learning needlework. There was no expectation that boys and girls would be treated equally. Boys were the future breadwinners while girls were expected to be wives and mothers, although many would also have to work for a living, perhaps as domestic servants or dressmakers. Sewing was an essential skill for working class women in the late 19th century when they had to make and mend the majority of their clothes and household linen.
The 1881 census reveals that Helen Wilson came from a working class household in Leggats Land and, later, Deanhaugh Street in Stockbridge, where her father was a plumber. Having left school at 13, she worked as a 'painter's shop girl'. Did the attention to detail she learned while making her sampler perhaps give her the necessary skills for this job?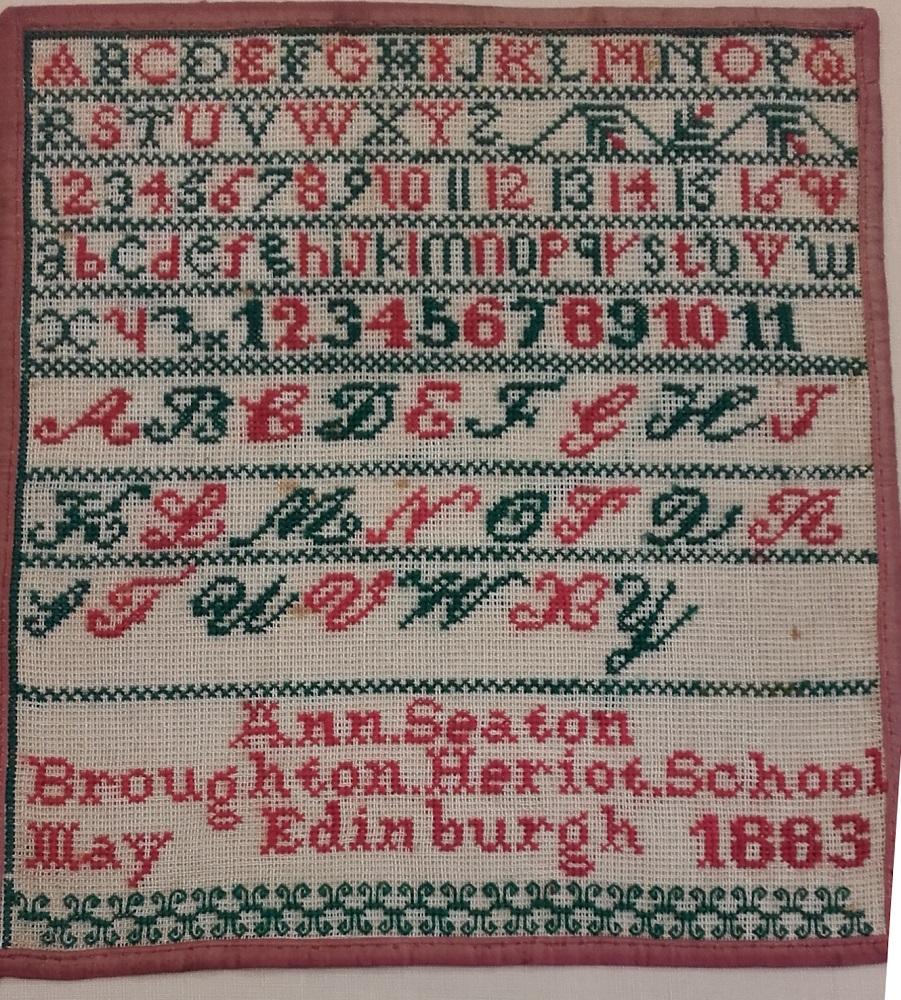 Here is another example made by Ann Seaton at Broughton Heriot School in 1883. This was one of the elementary schools provided in each of Edinburgh's 13 parishes by the governors of George Heriot's Hospital before the introduction of Board Schools. Duncan McLaren, one of the governors, believed that it was within the terms of George Heriot's bequest to provide 'outdoor' schools for the poor of the City in addition to the main 'indoor' school, and suggested using the profit from Heriot's investments to do this.
It is likely that this sampler was made by the 'Ann Seaton' who appears on the 1881 census living at Pilrig Model Buildings with her three siblings, her mother and her father, an iron moulder. By 1891, she was employed as an upholsterer while her older sister, Frances, was a dressmaker.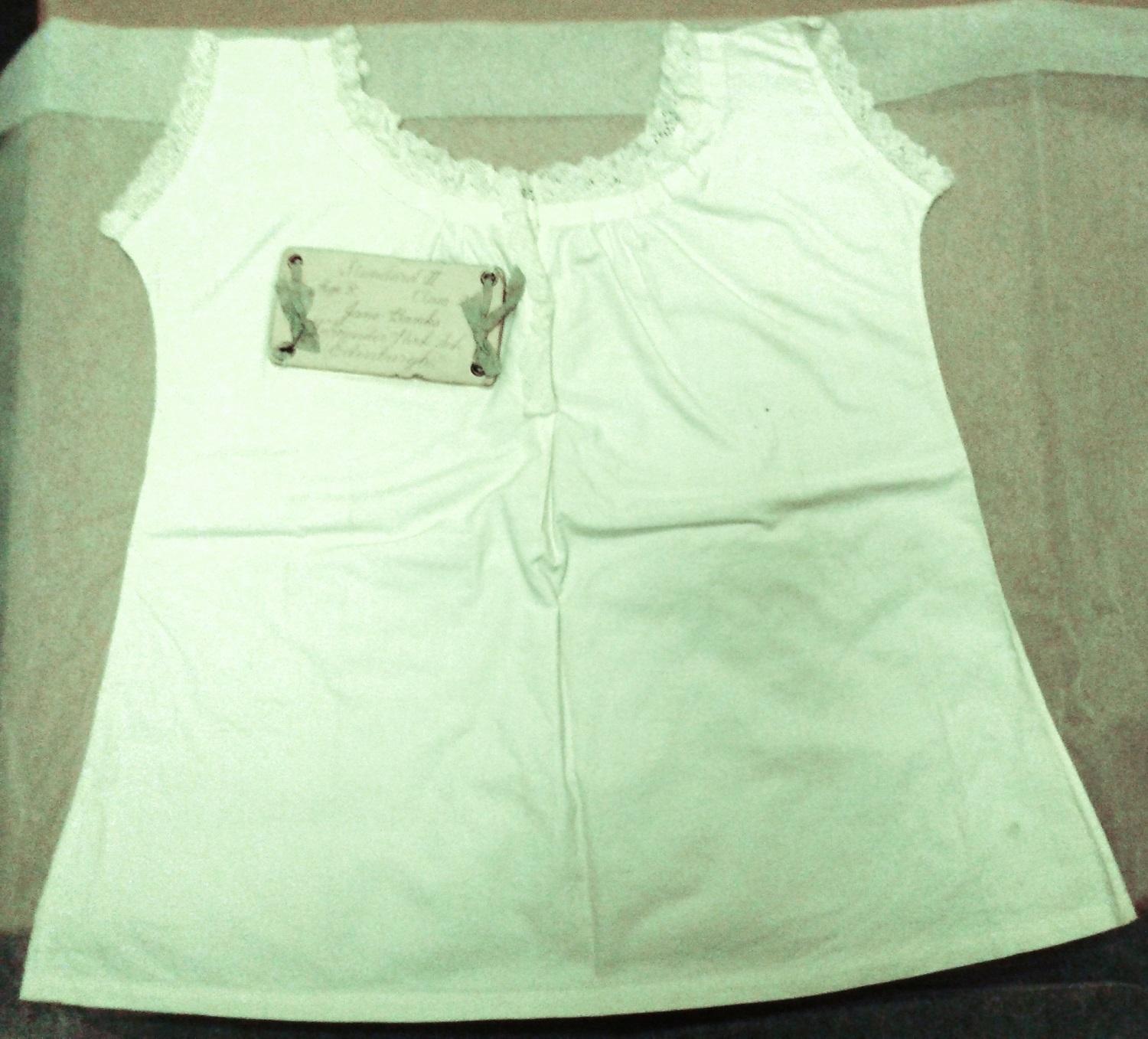 Girls were also taught plain sewing at school and made garments such as this chemise (under garment) made by eight year old Jane Banks at Warrender Park School in 1886. Jane won a prize for this amazing piece of needlework. There are three girls called Jane Banks listed in the 1881 census, all of whom could have been the Jane who made the chemise. I would like to think it was the girl who lived at 15 Nicolson Square with her parents and eight siblings. Her father, James, was a Master Tailor who could have passed on his skills to the next generation.
You can see more Museum of Childhood items from our collection online at www.capitalcollections.org.uk.