Auld Reekie Retold is a major three year project which connects objects, stories and people using Museums & Galleries Edinburgh's collection of over 200,000 objects. Funded by the City of Edinburgh Council and Museums Galleries Scotland, the project brings together temporary Collections Assistants and permanent staff from across our venues. The Auld Reekie Retold team are recording and researching our objects, then showcasing their stories through online engagement with the public. We hope to spark conversations about our amazing collections and their hidden histories, gathering new insights for future exhibitions and events.
In this blog, Helen Edwards, Decorative Art Curator, looks at a painting and a photograph album in the collections at Lauriston Castle.
Margaret Johnson Barton, wife of William Robert Reid, was Lauriston's last private resident. It was Mrs Reid who left the castle and its contents to the nation after her death in 1926, but because they did not leave us their family papers it is difficult to find out much about the Reids as people. Discovering more needs some curatorial detective work.
In one of the smaller ground floor rooms at Lauriston Castle is a painting by Scottish artist Christina Paterson Ross, along with paintings by George Stratton Ferrier, who was a school friend of Mr Reid. I have sometimes wondered if Christina Paterson Ross was a friend of Mrs Reid before her marriage.
We do have some of the Reid's photographs, although these are rarely labelled or dated.  In one album there are several images of an artist's studio including three images of a man in a straw hat lounging on a travelling couch, looking through a window and seated in the corner of an attic.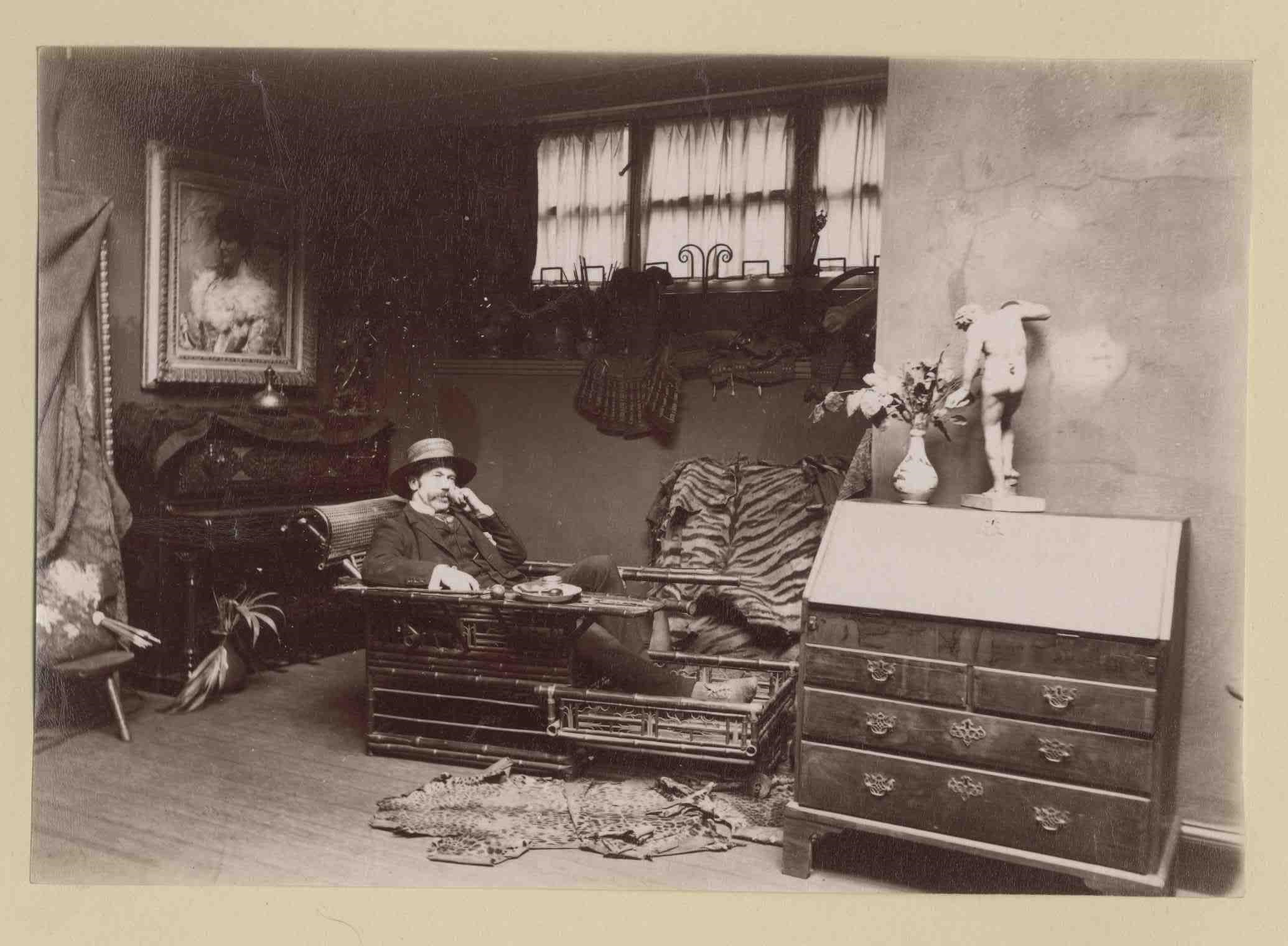 There are also two pictures of a woman artist at her easel. Could these be photographs of Christina Paterson Ross in her studio?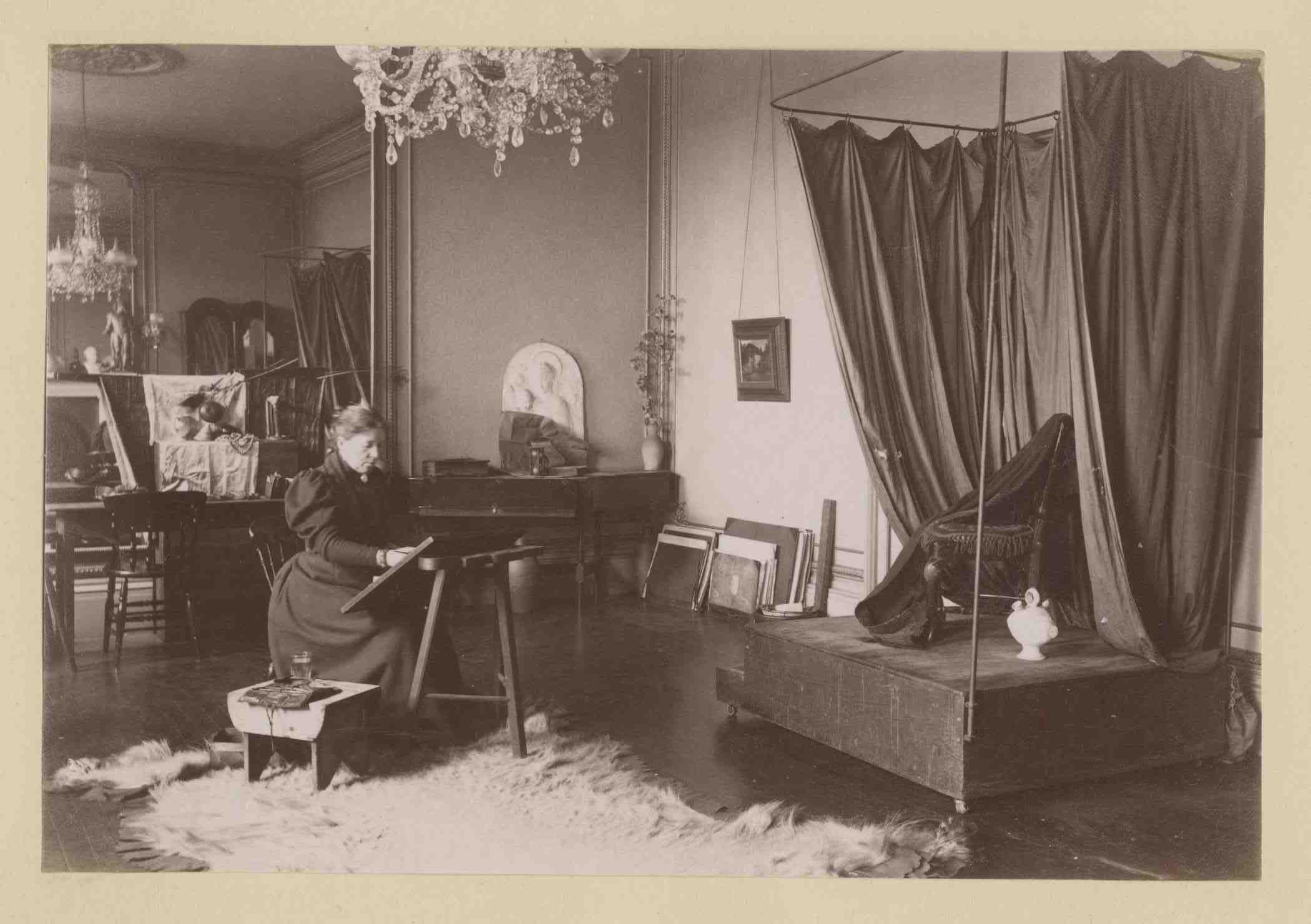 It seemed like a question never to be answered until I found images of a painting by her called 'Fairy Tales'. It depicts a child in the corner of an attic reading a book. A very distinctive scene, with fabric draped across the wall, a circular mirror in a brass frame, a window on the right, a balcony on the left, and a tiger skin rug on the floor. Vital clues because these all appear in one of the images of the artist's studio. Even the reflection in the mirror is the same.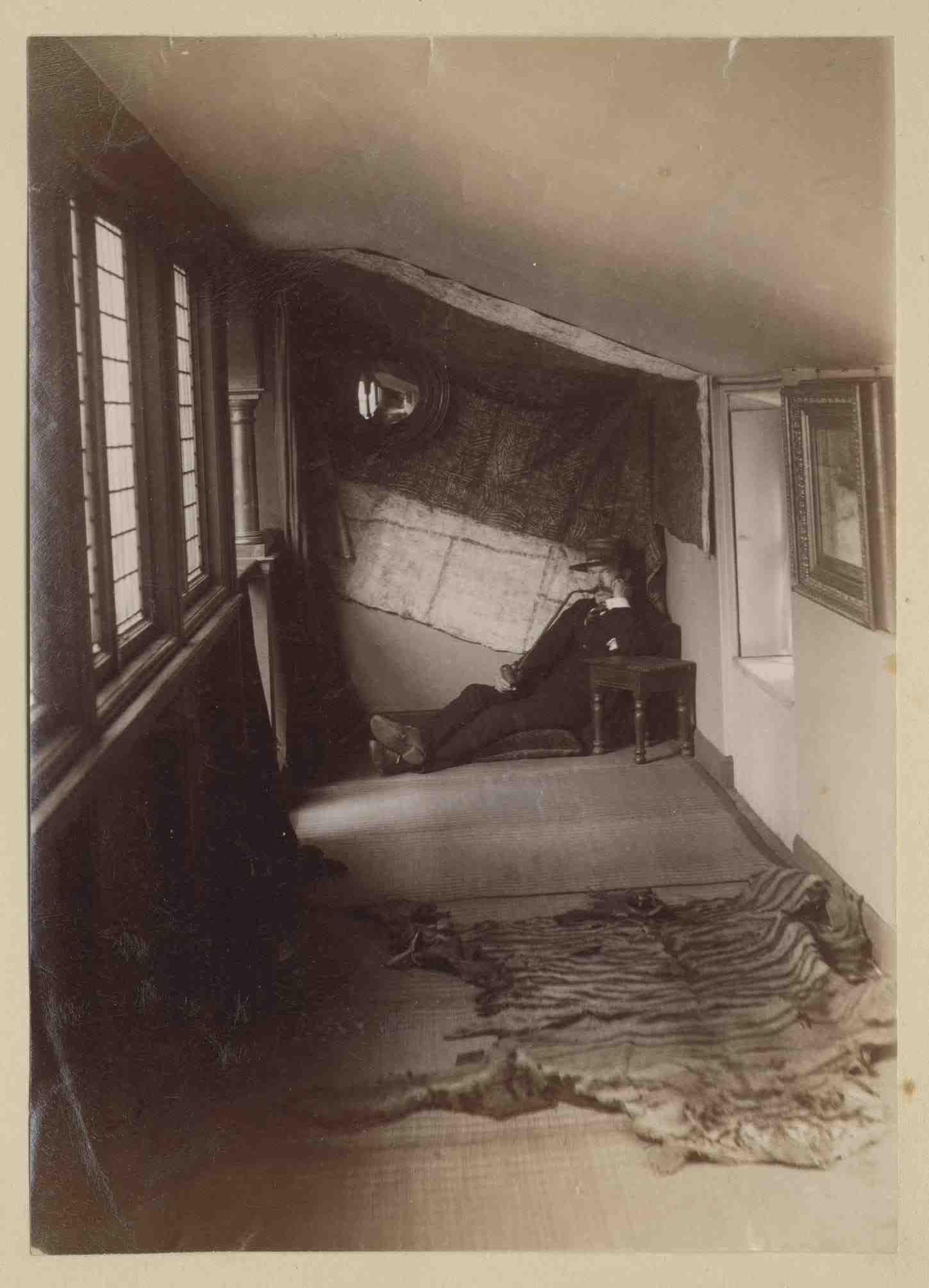 One of the best sources about Christina Paterson Ross is a book called Professional Women Painters in Nineteenth-Century Scotland by Janice Helland.
Christina Paterson Ross was the daughter of the artist Robert Thorburn Ross. She was born in 1843 in Berwick Upon Tweed and had a younger brother, Joseph, and a sister, Jane.  The family moved to Edinburgh when Christina was aged about 10. Both Christina and Joseph became artists. By the time Christina was in her early twenties she was exhibiting her paintings. She became the first president of the Edinburgh Ladies Art Club, which was formed in 1889 for professional women artists. She was a member of the Glasgow-based Scottish Society of Painters in Water Colours and was one of the first members of the Society of Scottish Artists. She mainly painted in Scotland, but also travelled and painted in the Netherlands, France, Spain and Morocco.
According to the 1881 census Christina was living with her parents in a flat at 78 Queen Street, Edinburgh. By the end of the 19th century, she was renting a house in Atholl Crescent with her brother and sister. Janice Helland writes:
'Joseph Thorburn Ross kept a studio (formerly the stable) with a separate entrance onto Atholl Crescent Lane, as well as a direct entrance into the house. Christina Paterson Ross presumably had her studio in the front part of the house.'
From this description I think 'Fairy Tales' depicts a corner of the balcony of Joseph's studio, whereas the photographs of the woman at her easel may show Christina's studio in the main house.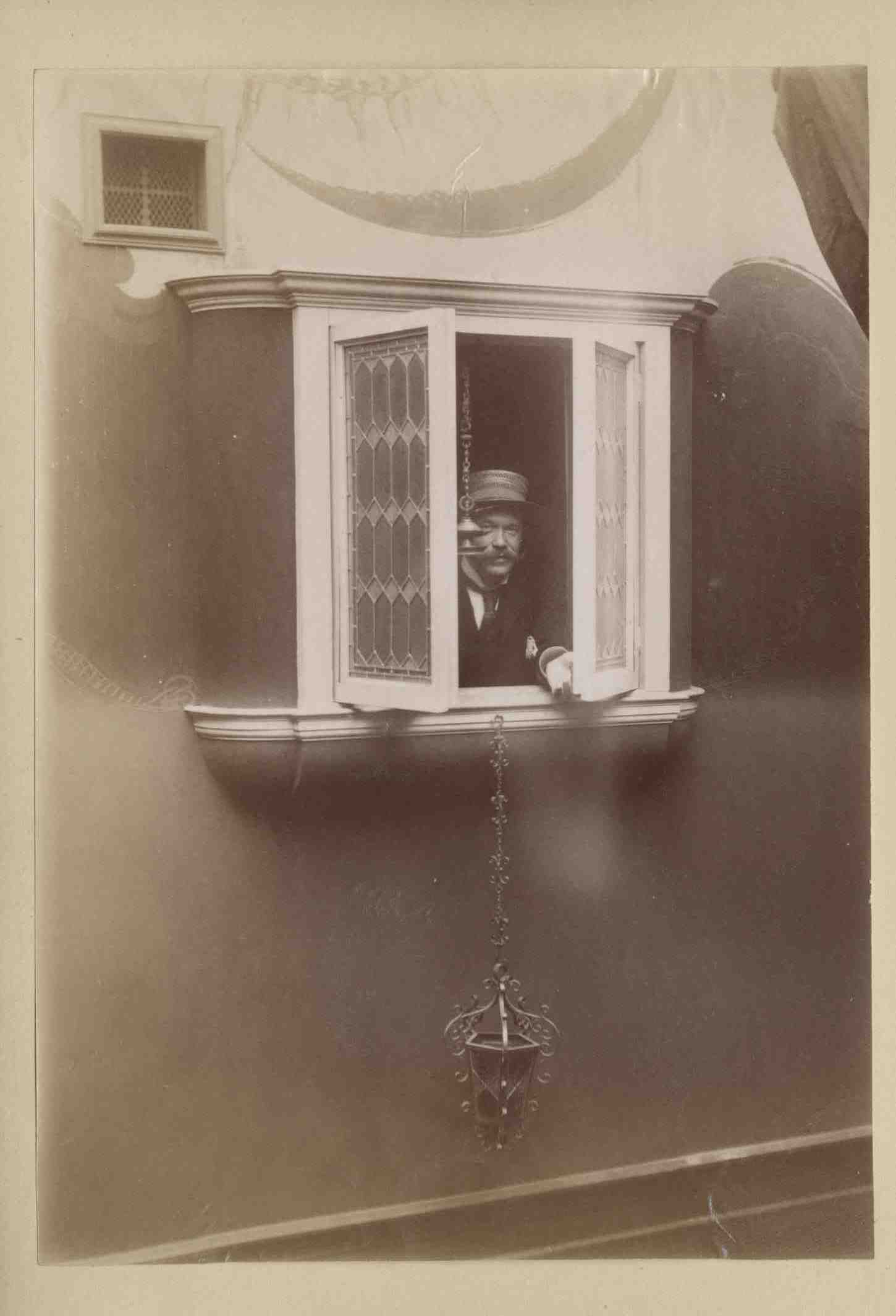 This photograph may be of Christina's brother Joseph as it looks like an older version of the portrait of Joseph Thorburn Ross painted by his father, now in the collection of the Royal Scottish Academy of Art and Architecture.
Joseph Thorburn Ross died tragically in 1903 from injuries sustained in a fall from the balcony of his studio. Only three years later, Christina died of cancer aged 62.
The final question is who took the photographs and why are they in the collections at Lauriston Castle? I think they were taken by Margaret Johnstone Barton and she was indeed a friend of Christina Paterson Ross. In the same album are interiors of her family home at 4 Glenorchy Terrace, along with photographs of friends and family.
Margaret Johnstone Barton was a keen amateur photographer and became a member of the Edinburgh Photographic Society. She entered some of their competitions and we have some framed competition entries which include other images from this album. All the evidence indicates that the photographs were indeed the work of Margaret Johnstone Barton.
One final interesting thought comes from Janice Helland's book:
'In 1887, Christina Paterson Ross had exhibited 'Chez Nous' in the watercolour room of the Royal Scottish Academy. This untraced picture was described as 'a triptych representing the interiors of three studios with artists working in them'. It was not for sale, presumably because it depicted friends and colleagues of Ross's, and perhaps even included the artist herself.'
Could these photographs have formed the basis of this work? Perhaps the painting still exists somewhere? If anyone out there has seen it, then we would like to know.
You can see more from our collections online at www.capitalcollections.org.uk.