Auld Reekie Retold is a major three year project which connects objects, stories and people using Museums & Galleries Edinburgh's collection of over 200,000 objects. Funded by the City of Edinburgh Council and Museums Galleries Scotland, the project brings together temporary Collections Assistants and permanent staff from across our venues. The Auld Reekie Retold team are recording and researching our objects, then showcasing their stories through online engagement with the public. We hope to spark conversations about our amazing collections and their hidden histories, gathering new insights for future exhibitions and events.
In this blog, Suzy Murray, Collections Project Assistant, looks at Joseph Hislop, an Operatic Tenor, and one of his costumes which is part of the Museum of Edinburgh's collection.
One of my favourite objects we've worked on is a costume comprising a swishy purple velvet cape with matching pantaloons, or as the curator calls them "short hose". This costume could be mistaken for modern pantomime costume but actually comes with a very different back story of Opera in the 1920s.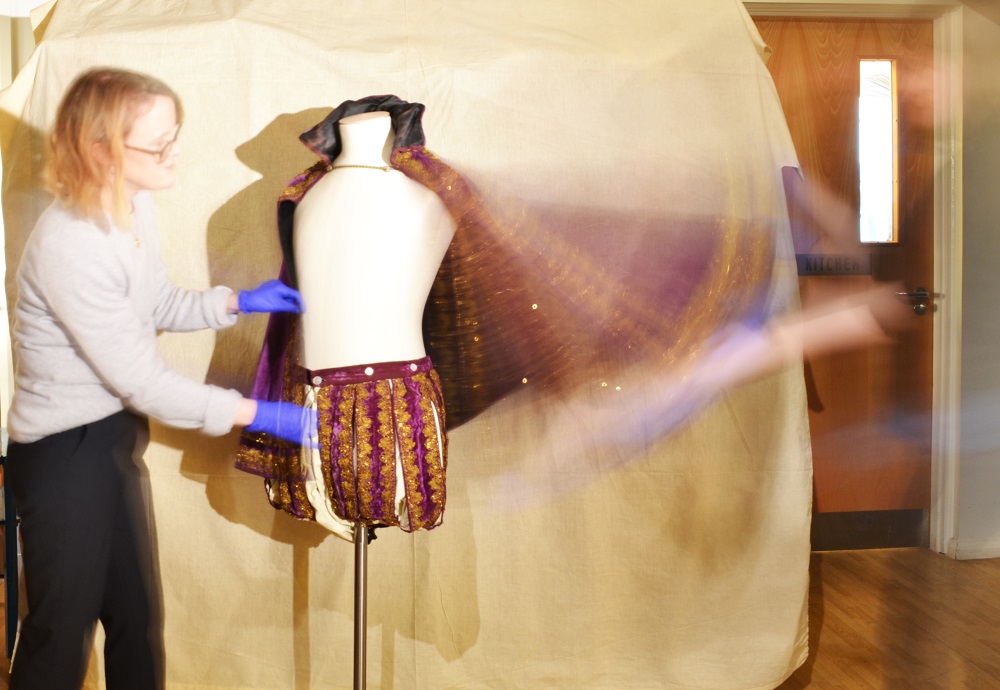 Worn by Joseph Hislop during his turn as the Duke in Rigoletto, performed at Covent Garden in London, this costume was designed for a man who went on to travel the world and perform in America, Australia and throughout Europe. Hislop is an interesting character, he was well travelled even before his foray into international Opera.
Hislop started out his career on a very different trajectory, training to become a photo-process engraver. He apprenticed and later worked with Hislop & Day photo engravers in Edinburgh. He then worked in Glasgow and London, and then finally was sent to Europe to train others in the novel processes of the time. Hislop always desired a different path, a path that years later was realised during a visit to Sweden.
He was in Gothenburg sharing new printing processes and techniques, and singing in a choir in his free time, when he was noticed by a vocal soloist from Stockholm. He then worked with Dr Gill Bratt, a fellow singer and a medical throat specialist, on his vocal abilities. He was accepted into the Stockholm Opera School, rare for a non-native at the time, and by all accounts he did exceptionally well. He was performing with the Royal Swedish Opera by 1914. By the age of 30 Hislop had completely abandoned his career in printing to pursue his aspirations in music. He went on to train in Milan and ended up with major roles throughout Italy in opera houses such as La Scala in Milan and Teatro Regio in Turin.
As well as his international travels he also performed to audiences back home at the Edinburgh Empire Palace Theatre, the now Festival Theatre on Nicolson Street. Within our collection we have the Theatre Programme of his performance of Puccini's "La Boheme" at the Empire Palace Theatre in 1928. This saw him revisit the role of Rodolfo, which he had become internationally known for through his time at Covent Garden in London. In fact, it is said that Puccini himself, after seeing Hislop in his Covent Gardens debut which just happened to be "La Boheme", claimed that Hislop was his "ideal Rodolfo".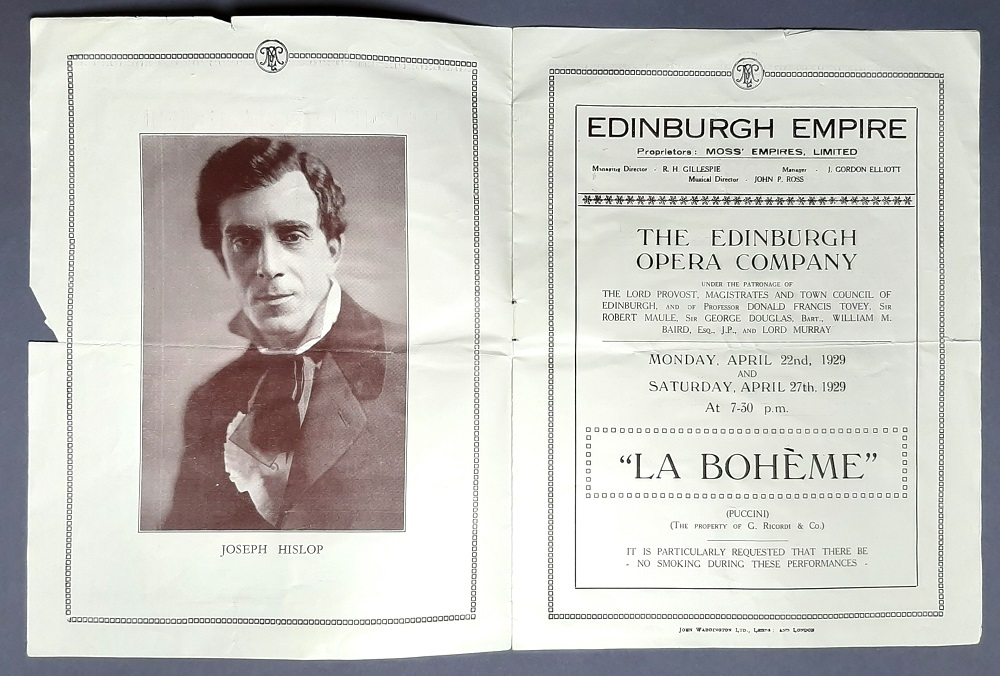 But let's not pretend I knew all of this when I first laid eyes on our swishy purple cape! No, I loved the cape for its flamboyant, over the top gold detailing and its voluminous purple velvet pantaloons. In our drab office it looked comical. On the stage of Covent Gardens it must've looked almost understated standing in front of the extravagant sets and amongst the cast in fabulous costumes. Hislop was a tenor with a voice suited to his role of The Duke of Mantua in Rigoletto. The piece takes the viewer on a journey of desire, secrecy and deceit which were carried by the voices of the Duke of Mantua, Gilda and Rigoletto in their tale. The costume, made by Morris Angel and Sons Ltd a notable costumier who could until very recently could still be found at 119 Shaftesbury Avenue, London, is very traditional for Rigoletto. Looking at images published by Casa Ricordi of The Duke's costumes from the 1850s here, you can see strong similarities to Hislop's below costume from the 1920s.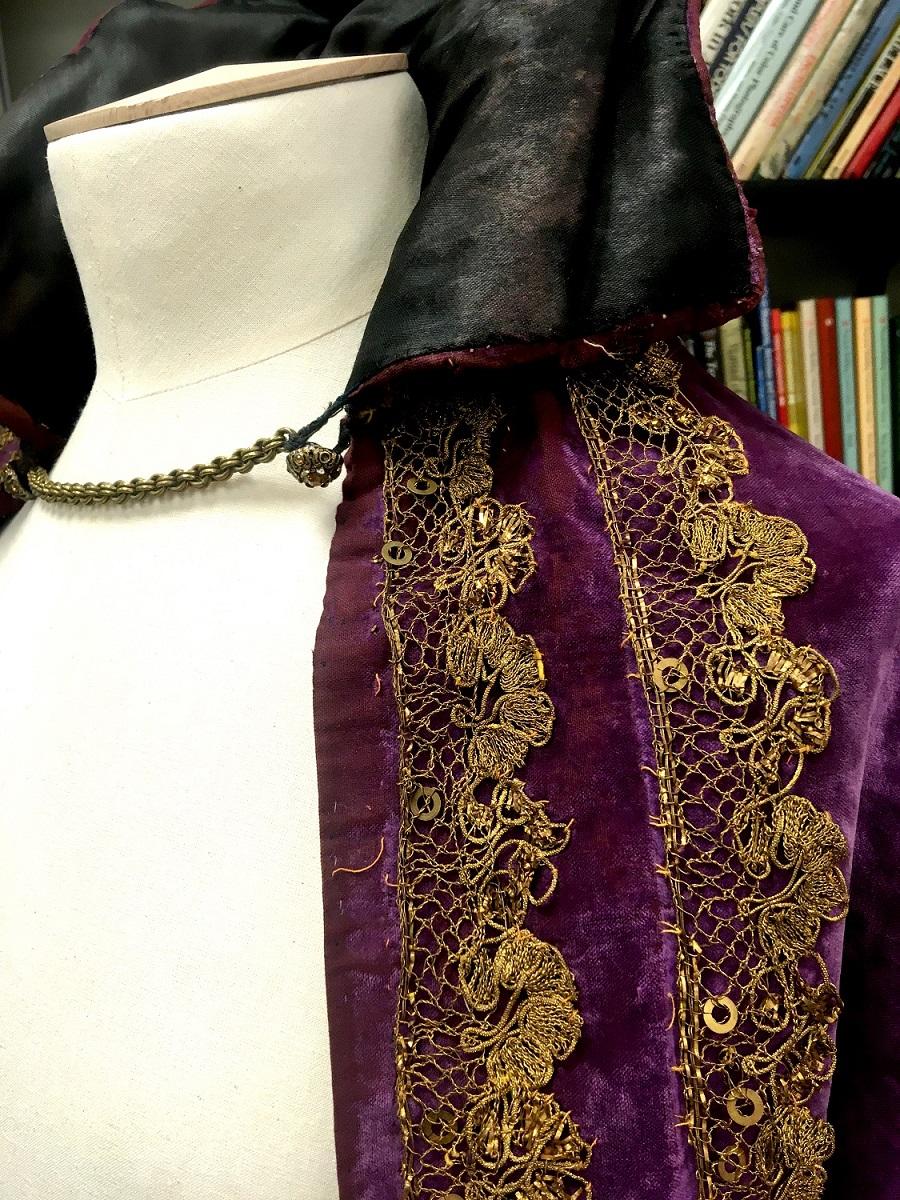 This beautiful costume was given to Museums & Galleries Edinburgh and the people of Edinburgh during a presentation to unveil a commemorative statue of Joseph Hislop at the Usher Hall in 1989.
You can see more collections relating to Joseph Hislop, and theatre in general, from our collection online at www.capitalcollections.org.uk
We've also found a clip of Joseph Hislop singing La Donna E Mobile from Rigoletto, which can be enjoyed over on YouTube.