Auld Reekie Retold is a major three year project which connects objects, stories and people using Museums & Galleries Edinburgh's collection of over 200,000 objects. Funded by the City of Edinburgh Council and Museums Galleries Scotland, the project brings together temporary Collections Assistants and permanent staff from across our venues. The Auld Reekie Retold team are recording and researching our objects, then showcasing their stories through online engagement with the public. We hope to spark conversations about our amazing collections and their hidden histories, gathering new insights for future exhibitions and events.
In this blog, History Curator Vicky Garrington explains how the Auld Reekie Retold project is tackling our large and varied dress history collection. Some of the photos for this blog were taken before Covid-19 social distancing rules came into effect.
The Museums & Galleries Edinburgh dress history collection has over 8,000 pieces of clothing and accessories, from 18th century bodices and skirts to 1930s children's shoes. Delicate 19th century Paisley shawls made in Edinburgh sit alongside lavish panto costumes from the King's Theatre, while hobnail boots nestle near to golden leather heels. The collection has been growing for over 100 years. As part of Auld Reekie Retold, we are cataloguing, researching and improving the storage of these pieces which shine a light on the way people in Edinburgh have lived their lives.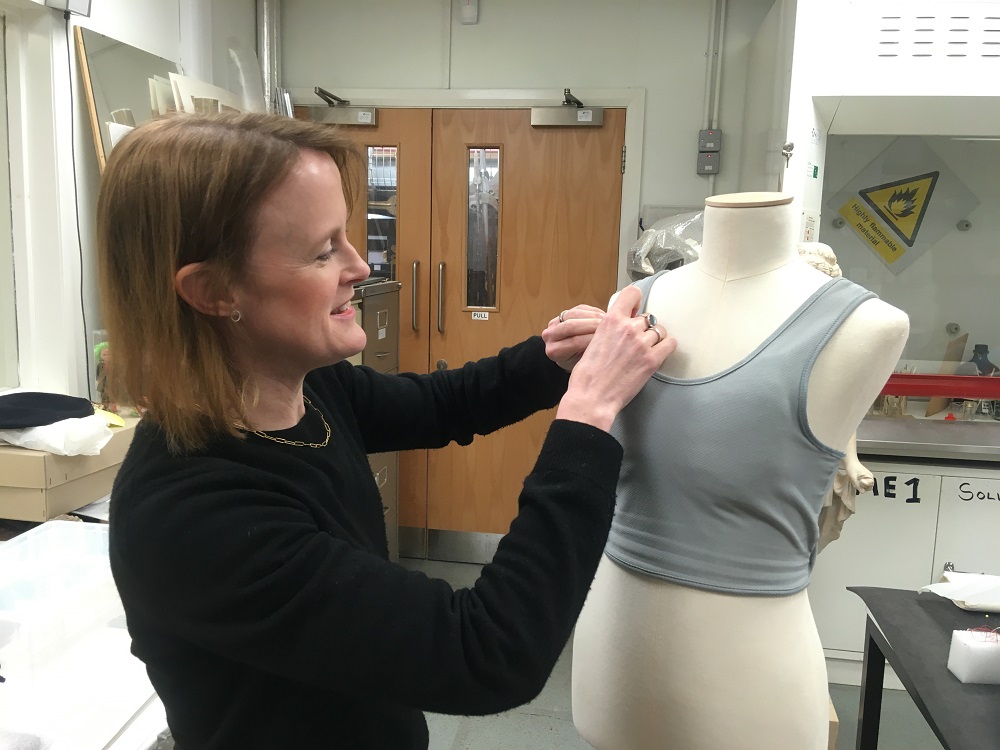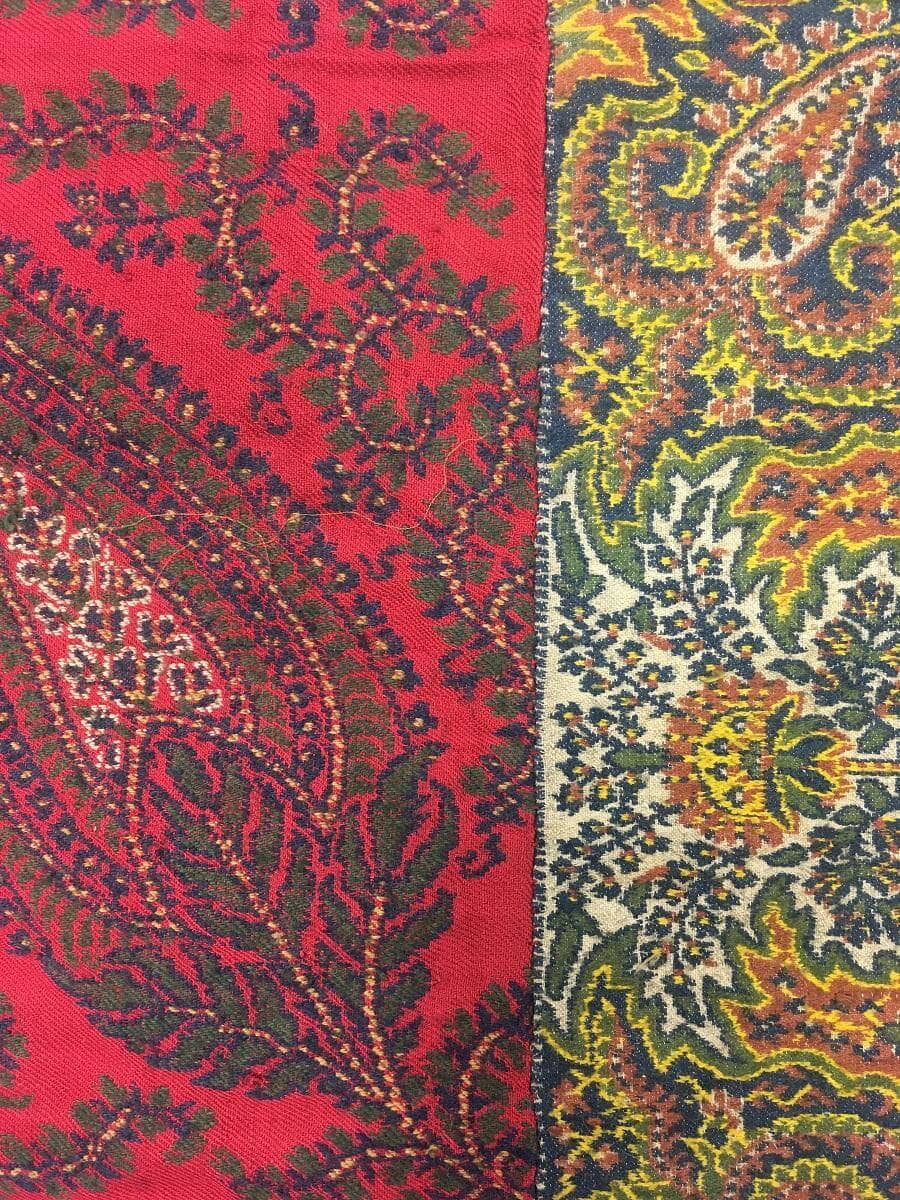 Our first step is to unpack each item. We assess its condition, noting any problems that need to be dealt with by our in-house collections care officer or external specialists. We then check for an accession number (a unique number given to every object) and match the item to our records. In some cases we may need to give an item a new number. Generally this is sewn into a garment. We use soft cotton tape tacked to the garment using loose stitches in a hidden-away place, making the label removable if needed.
You can find out more about object marking here.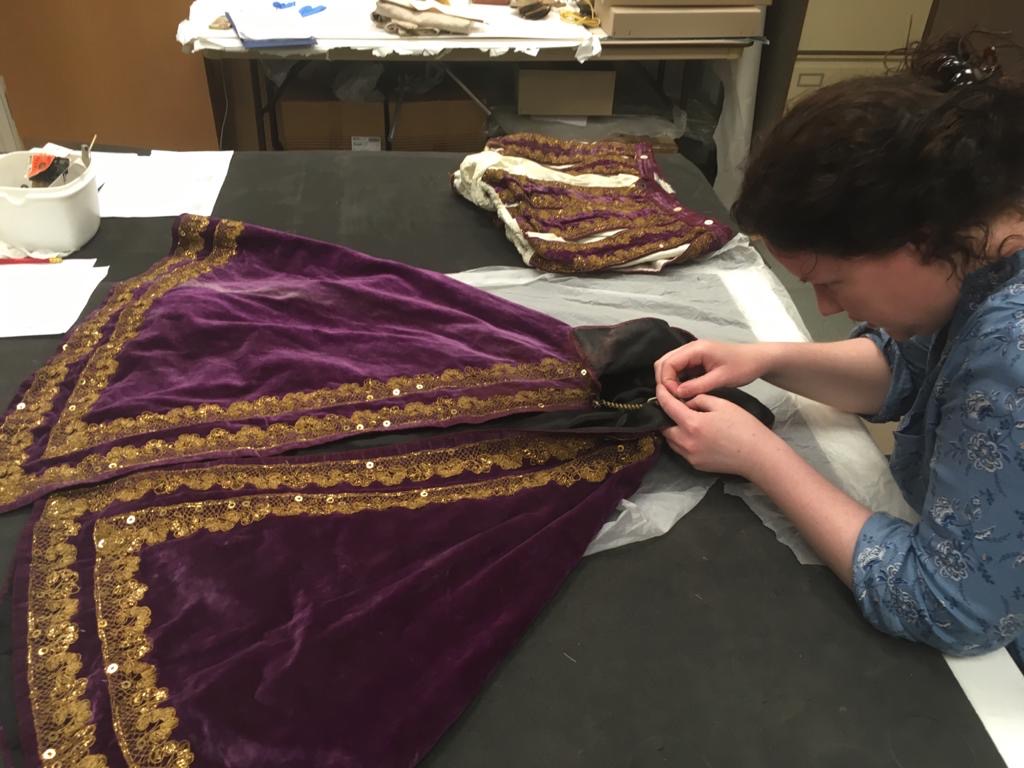 The next stage of the process is to work out whether an item needs improved storage. We might move a long dress to a longer box to prevent unnecessary folding. We will then use acid-free tissue paper that doesn't react with textiles to line the box and pad the garment. We use 'puffs' and 'sausages' of tissue to fill out cavities and support folds. The aim is to prevent creasing or pressure that would put strain on a garment. Smaller items may be moved from tissue parcels into divided trays within boxes, or else housed on inert foam tied in with cotton tape. The aim here is to make items easily viewable without needing to remove them from the box. Every time an object is handled, there is an opportunity for damage, so visual access is key.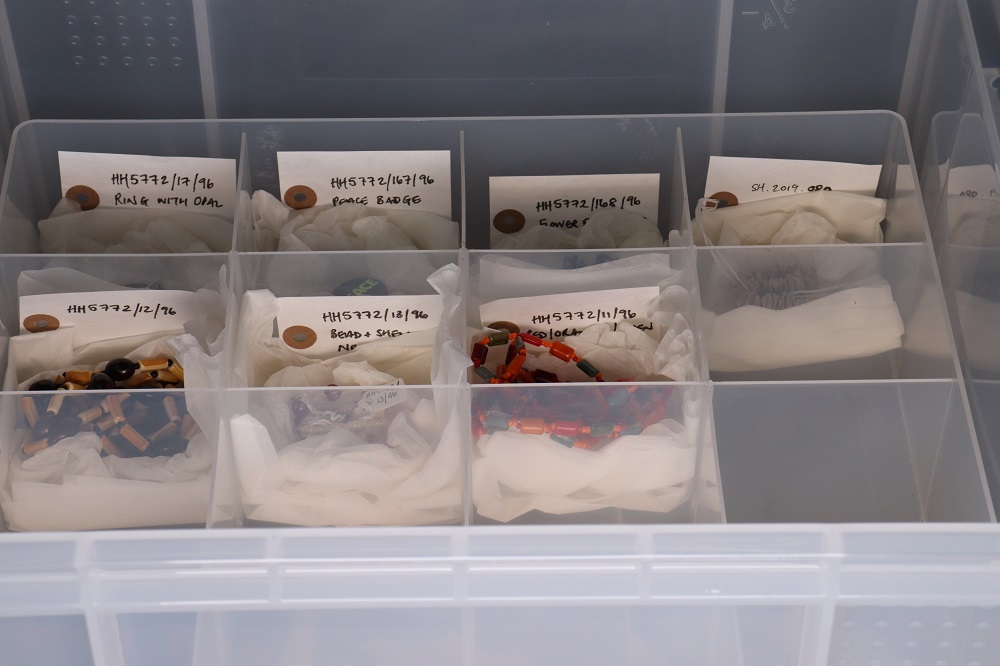 We have detailed information on the history of some of our costume, but other records are very brief. We may need to use pattern books or trade directories to date an item. Identifying materials and sewing techniques can help with dating, while even tiny details can be important. A maker's mark stamped into the back of a button, or a tram ticket found in a pocket, can help us to piece together an item's history. Auld Reekie Retold has given us the time and resources to do this detective work which can add so much to the stories our garments can tell.
We are photographing lots of our garments and accessories so that they can be shared online. Items are moved carefully within boxes, using trolleys to ensure a smooth journey to the photography studio. The studio is set up in the object store to minimise journeys. Some items are easy to photograph, while those with reflective surfaces, such as sunglasses or military armour, present more of a challenge! We are aiming not for a stylish shot, but for a photograph that helps the viewer understand an object and its use.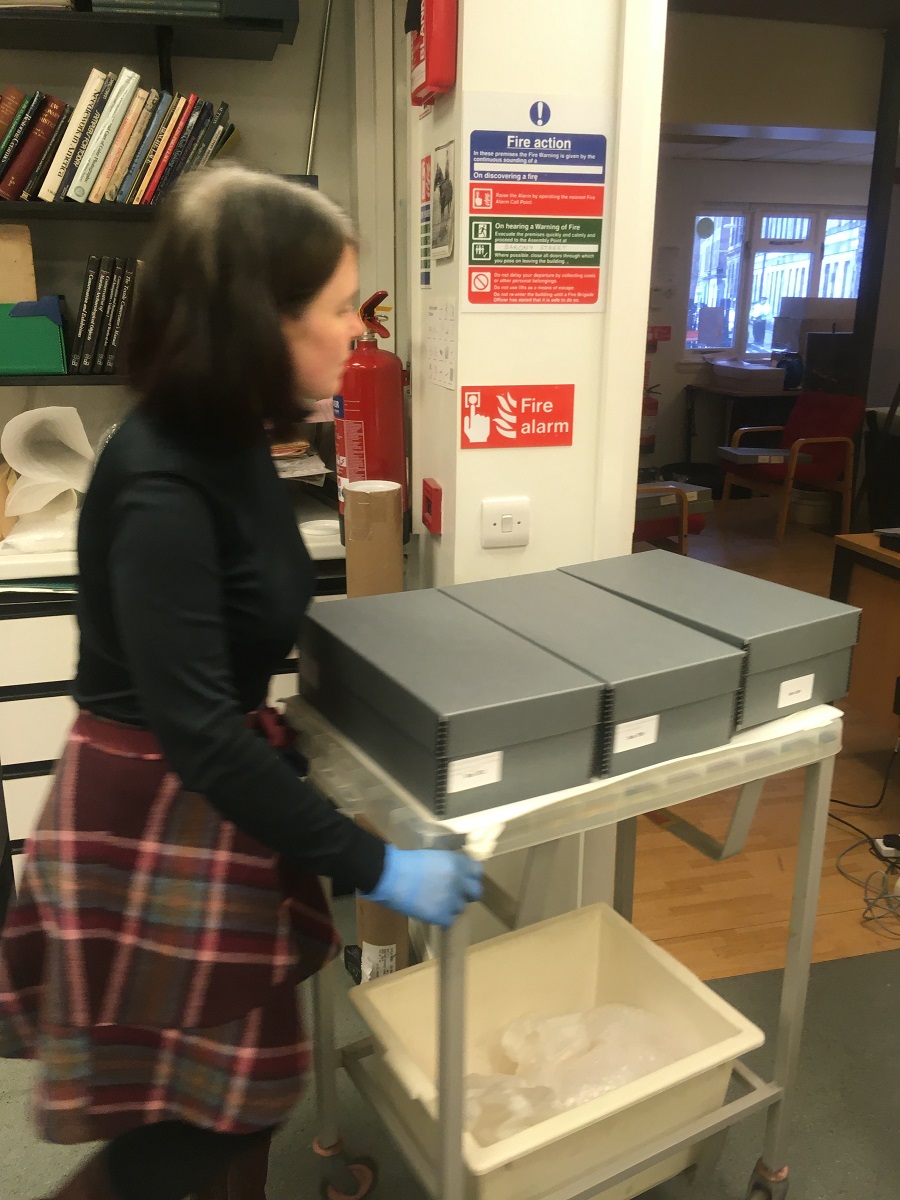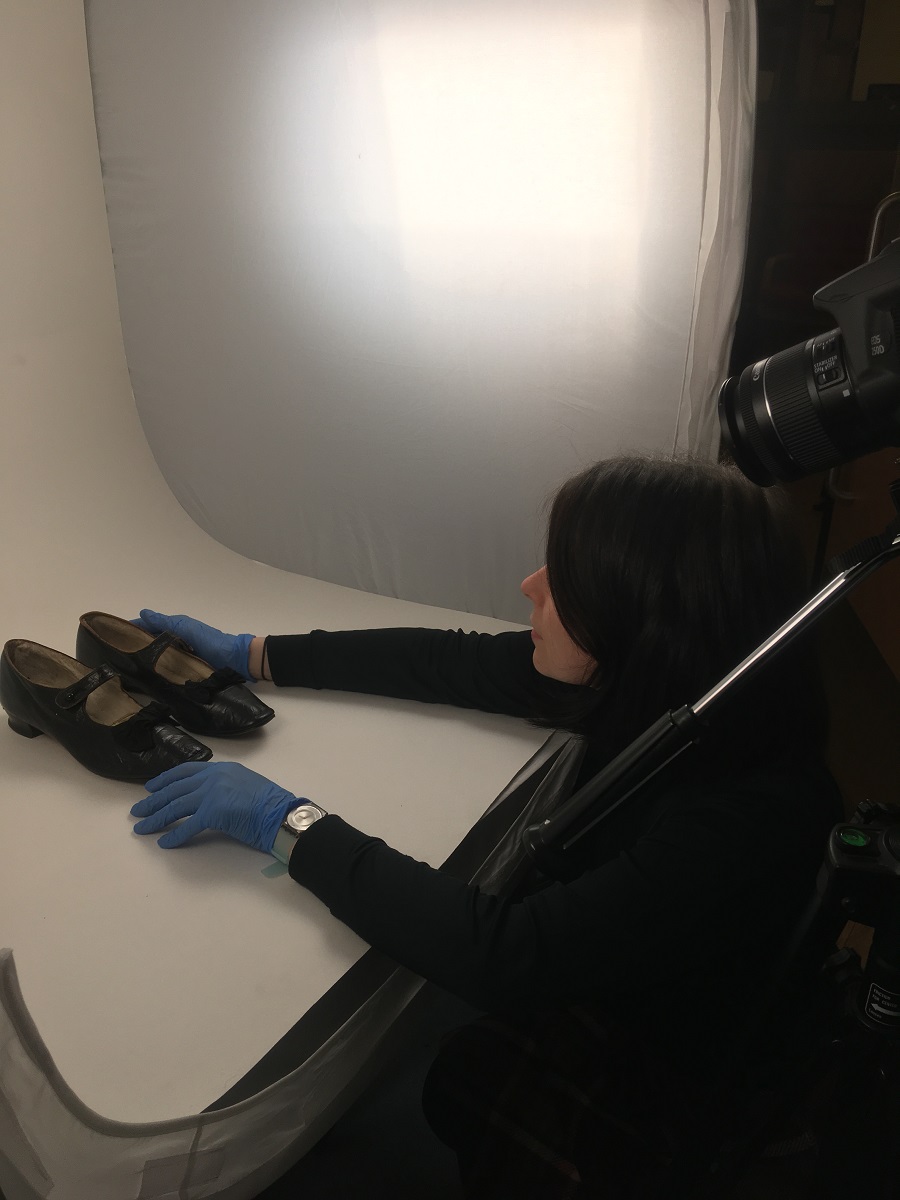 Our dress history collection is used across our venues. The costume gallery at the Museum of Edinburgh showcases some highlights, but pieces pop up in a whole range of exhibitions. Whether it's Field Marshal Earl Haig's military uniform or a 1960s cocktail dress that's required, we can always find something to help bring a story to life.
You can see more items from our dress history collection at www.capitalcollections.org.uk