Auld Reekie Retold is a major three year project which connects objects, stories and people using Museums & Galleries Edinburgh's collection of over 200,000 objects. Funded by the City of Edinburgh Council and Museums Galleries Scotland, the project brings together temporary Collections Assistants and permanent staff from across our venues. The Auld Reekie Retold team are recording and researching our objects, then showcasing their stories through online engagement with the public. We hope to spark conversations about our amazing collections and their hidden histories, gathering new insights for future exhibitions and events.
In this blog, Gabriella Lawrie, Collections Assistant, explores the activities of the Collections Assistants working on Auld Reekie Retold.
Since joining Museums & Galleries Edinburgh in October last year along with my two colleagues, Oliver and Suzy, we have been working through the collections to update records, re-pack objects and produce high quality images in order to make them more accessible both internally and to the public. The objects we work with can change from day-to-day depending on the collection, from pamphlets to petticoats and creels to confectionery. The first collection we worked through was the Newhaven collection which included many items related to the fishmarket and the fishwives who sold fish there.
Generally, our inventory process follows the same approach, when we're not in lockdown of course, but there's always something to keep you on your toes. Firstly we retrieve the objects from the store that we will be working with that day. Then, using the accession number we conduct a search in EMu, our digital collections management system, to find the record attached to the object and update and quality check the data as necessary. This also involves amalgamating information on the object from various sources within Museums & Galleries Edinburgh into the one record. If the object didn't have an accession number we would assign it a temporary number and create a record for it using that number which is identified to the appropriate curator for consideration for accessioning. If the object was given a temporary number this is then either marked on the object itself using a reversible conservation friendly method or written on a label which is either then attached to or stored with the object.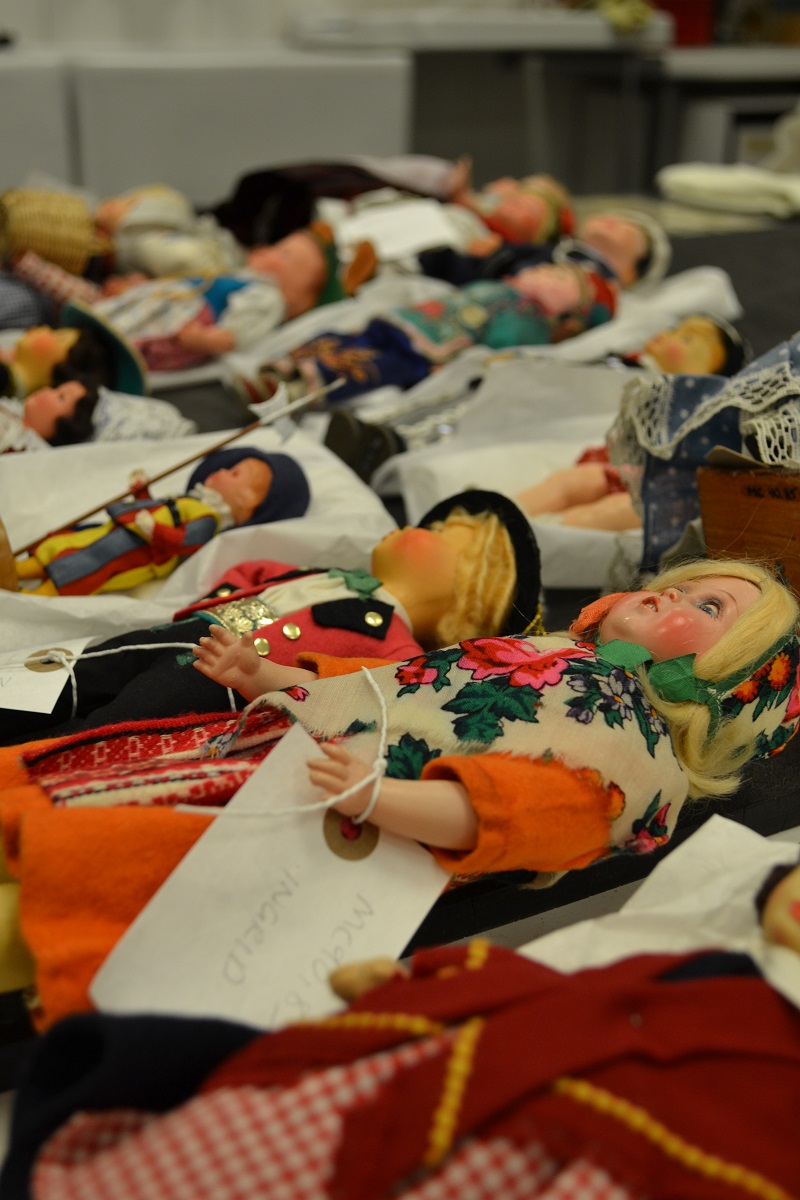 Before the object is re-packed a digital image of it is taken either in our photography studio or using our scanners if it is 2D and safe to do so. We then upload the image to EMu and attach it to the record. Throughout this process we are careful to follow object handling guidelines so as not to impact the integrity of the object. If we find an object which needs conservation treatment this is passed to our Collections Care Officer.
As Collections Assistants, not only do we update the information which already exists in the records, we also conduct research into the objects, bringing to life some interesting stories which may have been previously undiscovered. This research is conducted through the accession registers, entry forms and catalogue cards we have as well as curatorial knowledge, story catching events and a good old internet and book search. Unfortunately due to the current Covid-19 pandemic our usual inventory process has been halted for the moment, just as we were beginning work on our Queensferry collection. However, this does give us the opportunity to conduct more research on our collections and produce dynamic and informative online content on our social media platforms and the Museums & Galleries Edinburgh website. We are also very lucky that we can access our collections management system at home allowing us the time to complete ever-important data cleaning work. Although we can't be physically hands-on with the collections there are still many ways we are enhancing our records.
You can see more from our collection online at www.capitalcollections.org.uk
You can find out more about marking museum objects here.