To celebrate International Women's Day 2021 and Women's History Month our curatorial and collection team profiled five pioneering women whose lives are reflected by our collections. The series forms part of our current Auld Reekie Retold project, an extensive and ambitious project connecting Edinburgh's people to its collections. Each historic woman was nominated by one of our female colleagues and all the featured objects or photographs are currently held in our social history, childhood or applied art holdings.
Ella Morrison Millar – chosen by History Curator, Victoria Garrington
Ella Morrison Millar (1869-1959) was Edinburgh's first female Town Councillor. Elected in 1919, she campaigned against poverty and for better education and housing. She served until 1949 and, following her retirement, was known as the 'Mother of the Council' for her service. Her name lives on in the Morrison Millar women's golf tournament, which she established in 1928. Museums & Galleries Edinburgh have a pair of her shoes in their dress history collection. They are gold leather heels, bought from the well-known Edinburgh store Darling's in the 1930s. The shoes were recently featured in the exhibition 'Stepping Out' at the Museum of Edinburgh.
Nannie Brown – chosen by History Curator, Anna MacQuarrie
Nannie (Agnes Henderson) Brown (1866 -1943), was a prominent Edinburgh-born suffragist. In 1912, she was one of only six women who participated in the 'Brown Women' walk from Edinburgh to London, in support of women's suffrage. Each of the women wore brown overcoats on their walk, hence their collective name. Prior to 2018, we had only one object in our collection connected to her - this studio portrait with a medal clearly seen on her lapel. In 2018 a small collection of objects belonging to Nannie and her sister, Jessie, were donated to Museums and Galleries Edinburgh. The medal, pictured was one of these objects, awarded for her contribution to the 400-mile walk. It is inscribed on the reverse with her initials, N. B. and the date it was awarded to her. The other objects donated include notebooks filled with recipes, craft instructions and observations from the sisters' excursions to continental Europe. These important objects allow us to expand our research on these interesting women and the lives they led.
Lileen Hardy - chosen by Museum of Childhood Curator, Lyn Stevens
Lileen Hardy (1872-1947) opened the St. Saviour's Child Garden in 1906 in the Canongate, part of Edinburgh's Old Town, as the second free nursery provided for the poor children in Edinburgh. Hardy was part of a network of social reformers within the city including Elsie Inglis, Patrick and Anna Geddes and Canon Laurie of Old St. Paul's Church. Their shared ambition was to foster opportunities for children in the urban slums to enjoy green space, time to learn and access to nature, not seen as beneficial at the time.  Many of the younger children in the Old Town were left to entertain themselves while their parents worked or were incapacitated. Hardy needed help and funds for her Kindergarten and sought to raise awareness by producing a booklet entitled The Life History of a Slum Child outlining the dangers on the streets and homes presented to these children. The Museum of Childhood displays a copy of this booklet as part of its collection reflecting the pioneering work of Lileen Hardy.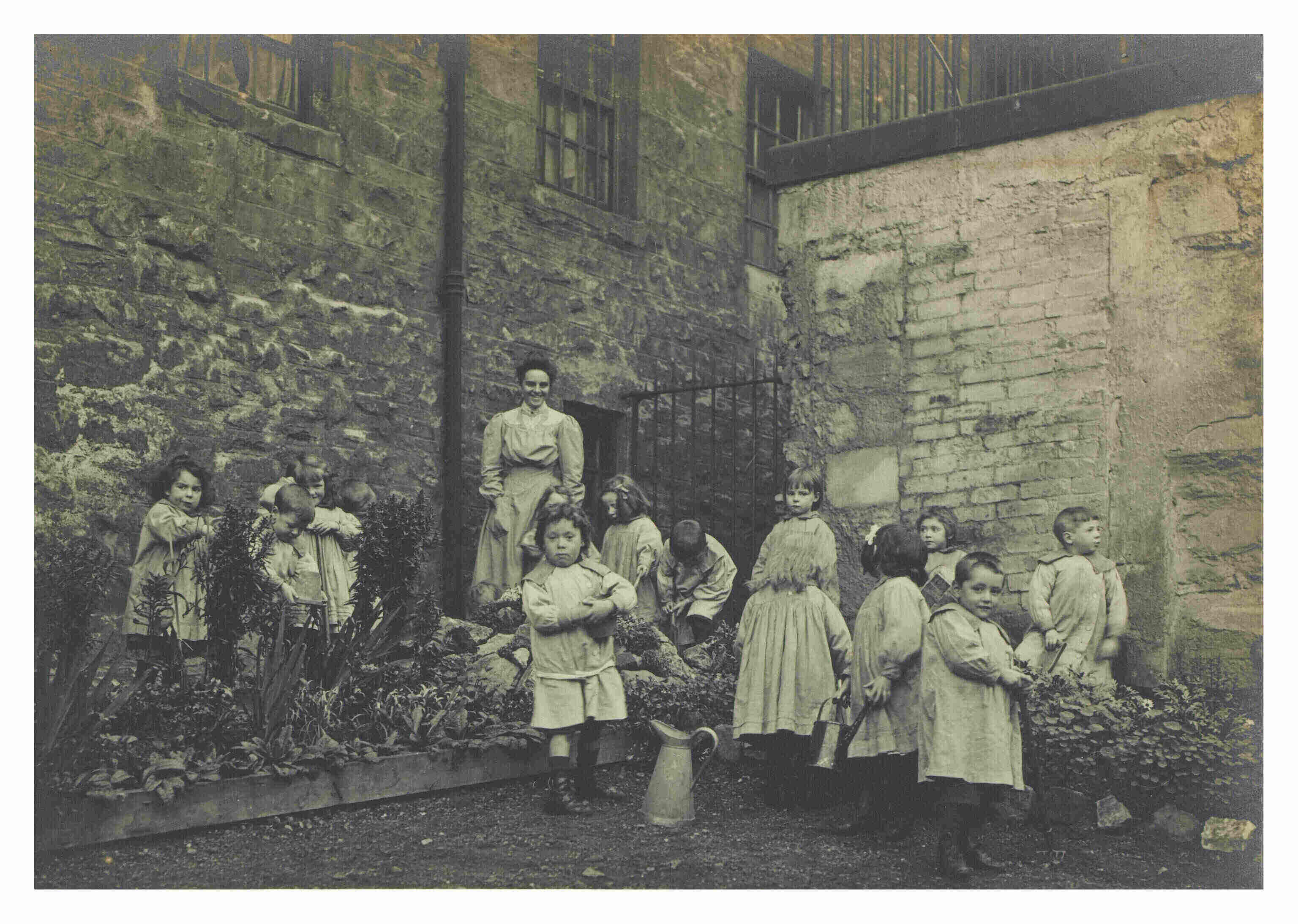 Helen Monro Turner – chosen by Applied Art Curator, Helen Edwards
Helen Monro Turner (1901-1977) founded the studio glass department at Edinburgh College of Art, where she taught glass engraving and was head of department for 30 years. Monro Turner studied glassmaking in Stuttgart in the late 1930s, then set up her own studio in Edinburgh. The photo shows her at work in her studio at Juniper Green. Museums Galleries Edinburgh have her treadle powered engraving lathe and her cabinet of copper engraving wheels in our collections. The lathe was formerly used at the Holyrood Glassworks, which closed in 1904. Descendants of the Ford family, former owners of the glassworks, gifted it to Monro Turner for her use. The engraved glass with the 'pigeons' motif is an example of her work in our collections and a symbolic link between the glassworks, and an artist and educator who passed her skills on to future generations.
Ena Thomson –  chosen by Collections Care Officer, Gwen Thomas
Ena Thomson (1907-1989) served as an Air Raid Warden in Edinburgh's Air Raid Precaution corps, or ARP during WWII. She joined at a time which saw many women enter the workforce, becoming factory workers, drivers and medics. ARP Wardens enforced the blackout, gave out gas masks and instructed the public in emergency safety actions. Some were even stationed on the roof of Jenners as lookouts for enemy bombers, ready to sound the air raid sirens. Thomson joined the ARP in June 1939, several months before the war officially started. Objects we have relating to her service, include her insignia and her book of Warden report forms, used for reporting bomb strikes, including the location, type of bomb, damage, and casualties. After the war, she joined the Civil Defence Corps, set up to act as a safeguard in case of a nuclear attack. She was a volunteer until it was disbanded in 1968, when she received a long service medal for her almost 30 years of public service.