The 14 venues and over 200 monuments which make up the Museums & Galleries Edinburgh collection provide a fascinating look into the abundant qualities which make Edinburgh one of the most culturally rich, historically enthralling and magically beautiful cities in the world. 
Read on for our one day guide on how best to uncover the many wonders housed across the wonderfully eclectic Museums & Galleries Edinburgh venues. 
Morning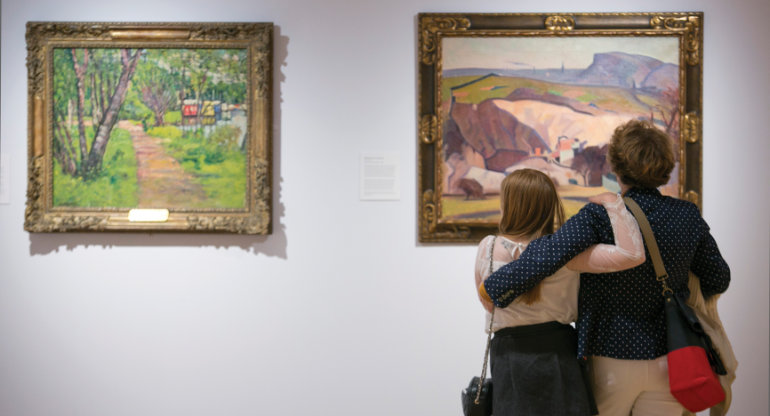 City Art Centre
Opening times: Monday - Sunday 10am - 5pm
Entry is free, charges apply for some temporary exhibitions
The City Art Centre is located in the heart of Edinburgh close to Waverley train station and offers up five floors dedicated to championing the very best of historic and contemporary Scottish visual and applied arts. 
The City of Edinburgh's Art collection is one of the finest in Scotland, and includes works by the most important Scottish artists from the 17th century to the present day. It encompasses drawings, prints, photographs and sculpture as well as paintings, and numbers over 4,500 items. The Centre presents an expertly curated and brilliantly diverse series of events and exhibitions throughout the year. Be sure to check out what's on before you visit. 
Be sure to pay a visit to the wonderful gift shop on the ground floor before you leave and pick up that perfect gift or unique memento of your visit!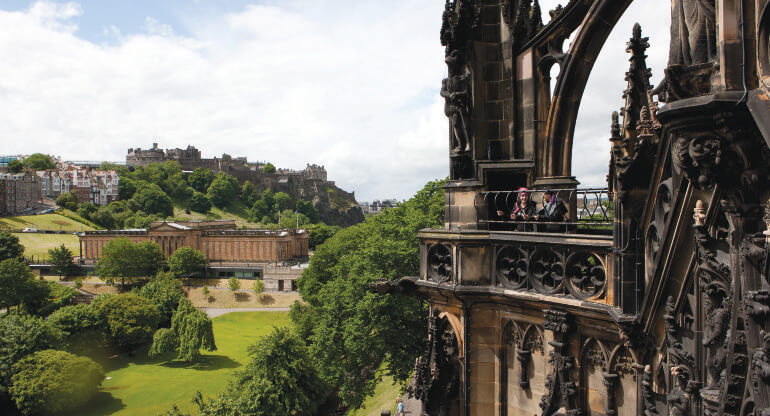 Scott Monument
Opening times: Monday - Sunday 10am - 4pm
Adult £8.00 Concession (OAP / Child / Student) £6.00 Family ticket £20 (2 adult+2 children or 1 adult & 3 children)
Likened to a 'gothic rocket ship' by Bill Bryson, the Scott Monument is the world's largest monument to a writer and has dominated the New Town landscape since it's completion in 1846. Constructed as a tribute to author Sir Walter Scott, the stunning sandstone monument is definitely one of Edinburgh's most unique historical sites. 
Rising to over 200 feet and covering 287 steps to the top viewing platform, it's not a trip for the fainthearted but those who make it to the top are rewarded with some of the most breath-taking Edinburgh vistas across the city and not to mention the very finest Instagram content! For those who are less keen on the climb, the monument features four levels in total, including the first floor and the Museum Room which tells the story of Scott himself, his tumultuous life, his legacy on international literature, as well as the memorial built in his honour.
Afternoon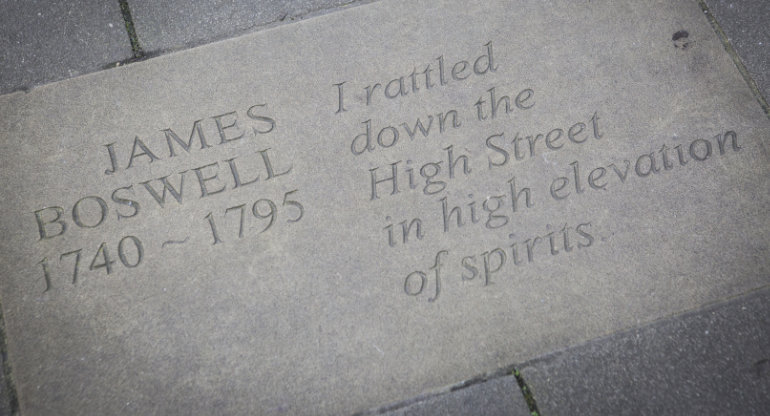 Makars' Court
Entry is free and is open access
Continue your exploration of Edinburgh's rich literary history with a visit to one of its enchanting closes which run off the historic Royal Mile – Makars' Court. Designed as an evolving national literary monument to celebrate the lives and works of Scottish writers, a walk through Makars' Court offers the opportunity to see some of the famous words of great Scottish writers inscribed in the flagstones under your feet.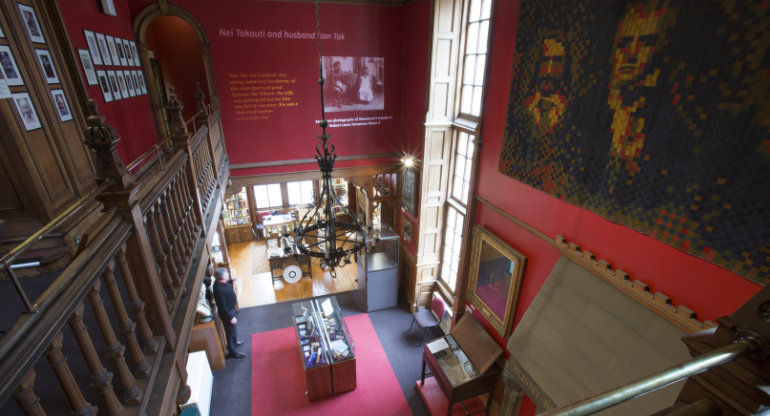 The Writers' Museum
Opening times: Monday - Sunday 10am - 5pm
Entry is free
You don't have far to go to reach your next stop. The Writers' Museum is located on Makars' Close and celebrates the lives of three giants of Scottish Literature – Robert Burns, Sir Walter Scott and Robert Louis Stevenson.
The museum has a fascinating collection of rare items and personal objects which provide an engrossing insight into the lives and works of three of Scotland's most famous literary figures. The Writers' rich collections highlights include; a first edition of Scott's novel Waverley and Stevenson's beloved classic, A Child's Garden of Verses. Manuscripts include Burns' draft of Scots wha hae ('Bruce's Address to his troops at Bannockburn'). There is also the press on which Scott's Waverley Novels were printed, a chair used by Burns to correct proofs at William Smellie's printing office, and Stevenson's wardrobe made by the infamous Deacon Brodie whose double life may have inspired the novel The strange Case of Dr Jekyll and Mr Hyde. Slightly more unusual items include; Robert Louis Stevenson's riding boots and the ring given to him by a Samoan chief, a rocking horse used by Sir Walter Scott as a child and a plaster cast of Robert Burns' skull!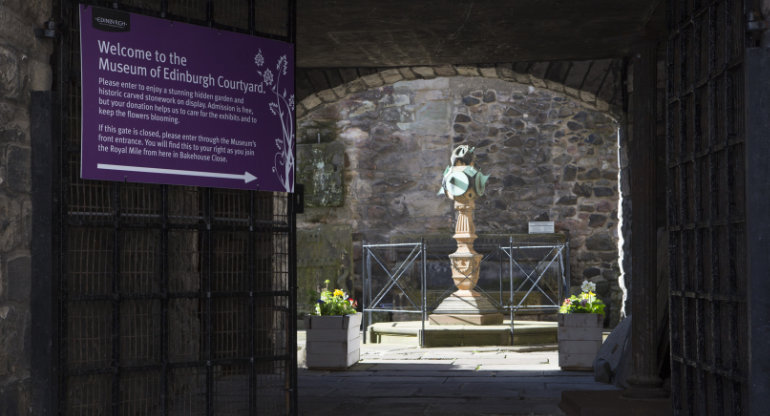 Museum of Edinburgh
Opening times: Monday - Sunday 10am - 5pm  
Entry is free
Once you've had your literary fill, enjoy a stroll down Edinburgh's historic Royal Mile and make your way to the Tardis-like Museum of Edinburgh on the Canongate.  
The 16th century building, which is an attraction in itself is home to a huge collection of iconic items, beautiful objects that chart Centuries of Edinburgh's history, from the romantic and fanciful to the utterly gruesome! Highlights including the National Covenant of 1638, which led to civil war and the collar and bowl of Greyfriars Bobby, the Skye terrier whose dogged devotion to his dead master touched the hearts of many and inspired numerous books and film adaptations. Also on display, are the iconic designs of the New Town by James Craig.  First World War commander Earl Haig's extensive collections are also on display.
Burns Monument
The monument can be viewed at any time, but it is not possible to enter directly. 
What better way to end your journey of discovery through Edinburgh's richly diverse history and heritage than with a magnificent view across our great city's iconic landscape? Make your way up Jacob Ladder Steps (caution, there's quite a few of them!) and as you reach the top on Regent Road you will be rewarded not only by a breath-taking city vista but also with beautiful Burns Monument. The 70 foot high Grecian-style temple was designed by Sir Thomas Hamilton and funded by public subscriptions in tribute to The Scottish Bard, Robert Burns. The Monument is surrounded by landscaped gardens with laurels, hollies and Ayrshire roses.